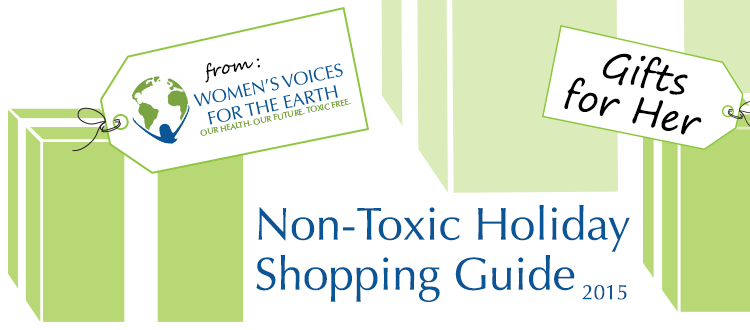 2015 Non-Toxic Holiday Shopping Guide: Gifts for Her
IT'S HERE! Each year, our Non-Toxic Holiday Shopping Guide puts together everything you need to make responsible choices without compromising the fun and excitement of gift-giving. This is the first of a three-blog series on how to find safe, healthy gifts for her, for him and for them (the kids). Tune in each week for more ideas for everyone on your list.
Non-Toxic Gifts for Her
It's no secret that women have the economic power to influence companies to make safer products. We've seen massive corporations like Procter & Gamble and Johnson & Johnson respond to demands to remove toxic chemicals, and the 'natural & organic' market is growing exponentially– faster than any other market segment.
The holiday season is a fantastic opportunity to use your dollars to support companies that care about our health and our planet. We know that it can sometimes be difficult to determine what's safe and what's not. Between long lists of unrecognizable ingredients and some items that don't even have labels to read, how are you supposed to know what is actually non-toxic?
Women's Voices for the Earth is here to help! Read on for tips, resources, and product recommendations that will turn you into an expert on non-toxic gift giving, and help you use your economic power to help create a healthier world.
ONLINE MARKETPLACES
Check out The Choosy Chick for safer health and beauty products—they even have gift bags, gift cards, and their own holiday gift guide to make your giving super simple!
Green Woman Store offers fair trade, green, and all-women-made items from clothes to beauty to art.
True Goods is a great online marketplace with high standards for selecting products that align with healthier, safer, cleaner living.
We love Kind Eye for finding safe personal care products (anything from mascara to shampoo to beard oil) that are made by companies with a conscience.
Browse the Mindful Momma Marketplace for goods and websites that Mindful Momma herself has tried and vetted.
PRODUCT RECOMMENDATIONS
Personal Care
Best Natural Beauty Products of 2015 from Expert Paige Wolf
Safer Skincare & Makeup Picks from Organic Bunny
Personal care items from No Secrets partners Just the Goods, Makes 3 and Sweet & Woodsy Aromatherapy
For a pregnant friend or new mommy, consider Earth Mama Angel Baby or a subscription to Supplet.
Think outside the box — we know it's personal, but why not stuff your friends' stockings with feminine care products from The DivaCup or Lunapads or Sustain Condoms.
---
Clothing & Accessories
Mommy Greenest Eco Fashion Holiday Gift Guide
Accessories from Amy Ziff's No Tox Life Veritey Shop
---
Workout items
Favorite safer yoga mats & accessories from Living Consciously
Picks from Mamavation's Leah Segedie from our 2014 Nontoxic Shopping Guide
---
Home
Greener Safer Better Gifts for Home & Hostess from Mindful Momma
Nontoxic kitchen recommendations from Eco-Novice
Big Green Purse Store
---
Books
https://womensvoices.org/take-action-with-womens-voices/wve-book-selections/
---
DIY
Sometimes the greenest gift is one that you make yourself!
DIY Beauty Recipes from Mommypotamus
Women's Voices for the Earth's Non-toxic DIY Recipes
How to Make Easy Handmade Gifts for the Holidays by Dr. Karen Lee
---
TAKE ACTION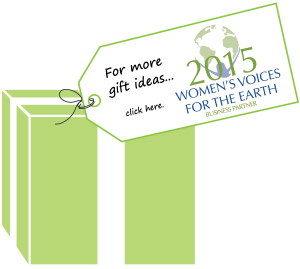 The bottom line is that we shouldn't have to rely on guides like this one (as much as we love writing them for you!) to find safe gifts to give. ALL products should just be safe to begin with, and we should never have to worry about toxic chemicals linked to cancer, reproductive harm, hormone disruption or anything else that harms our health.
Take action to help us pass a bill that protects us from toxic chemicals.
Happy and healthy holidays from all the women of Women's Voices for the Earth!