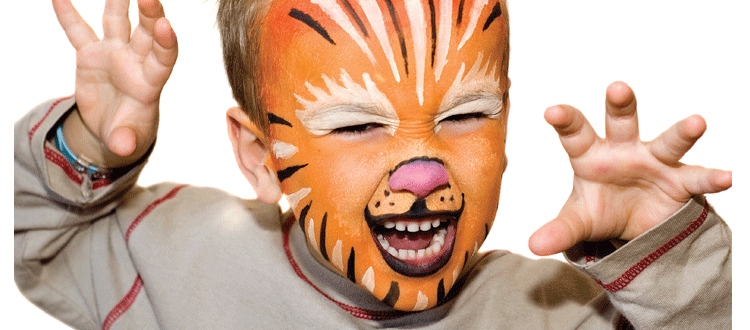 Tip of the Month: 10 Ways to Have a Non-Toxic Halloween
Preparing your kids for another fun year of trick-or-treating? With some great tips from Green Piñata Toy Share, let's make the process less about tricks and more about treats, especially when it comes to tricky toxic chemicals in Halloween costumes! Halloween should be safe and nontoxic, yet still plenty of fun!
Last year the Ecology Center conducted a study on products sold at several top retailers, including 44 costumes, 40 accessories, and 22 decorations and party favors. The results of their tests indicated that heavy metals including lead, as well as flame retardants, organotins and phthalates were present in a large percentage of the Halloween costumes and accessories. These chemicals have been shown to to play a role in respiratory impairment, reproductive problems, neurodevelopmental disorders, hormone disruption, and some are possible carcinogens.
So how do you keep your kids safe? We have put together 10 tips to make this year's Halloween less scary and more fun.
Buying your costume? No worries! Here are 5 tips to choose healthful Halloween costumes.
Avoid costumes made of PVC/vinyl, which are most likely to be contaminated with lead and phthalates. PVC is a flexible plastic that resembles rubber and is often referred to as the "poison plastic" due to its toxic properties throughout its life course.
Avoid all costumes with tags that say they are flame resistant.
Let your nose be a guide! If your costume has plastic or chemical smell, expose them to fresh air for at least a day before letting your kids wear them. This will facilitate the outgassing of harmful chemicals.
Look for used and borrowed costumes, as products tend to outgas chemicals over time.
Make sure the kids wear an additional layer of clothing underneath their costumes and they wash hands after the costumes are off.
Making your own costume? Great! Here are some tips to create your own healthful Halloween costumes.
Great costumes can be made using clothing at home such as pajamas, suits with hoodies for babies and toddlers. Let your kids get creative in your closet! Click here for more ideas.
Halloween accessories such as capes, wands, hats, and shields can be made using art supplies. Let the kids dig in to the left overs from their past art projects!
Make your own nontoxic face paint fairly easily by mixing natural food-based dyes with body lotion or toothpaste. For example, turmeric can be used to make yellow, beet juice for red, and cabbage or blueberry juice for purple. Many commercial children's face paints can contain toxic heavy metals like lead, cadmium, and more. Because contaminants like heavy metals aren't required to be listed on labels, parents often have no way of knowing which face paints are safe.
Don't waste money on cheap plastic trinkets that will quickly clutter your house or end up in the garbage. Some better options for Halloween party favors include stickers, crayons, and books.
Spiff up the pillowcases or sand pails this Halloween to collect candy.
Kids love candies! Choose organic non-GMO candies without high fructose corn syrup and artificial food dyes. This quick list will help you pick yummy yet healthy candy so that your kids can still enjoy their treats!
Happy and healthy Halloween!
——————————
This feature was written by Green Piñata Toy Share's scientific advisor, Dr. Hannah Gardener. Dr. Gardner is an epidemiologist with a doctorate in public health from Harvard and is an independent healthy living consultant.