What is Menstrual Equity?
The most commonly recognized definition refers to the affordability, accessibility and safety of menstrual products. But menstrual equity is not just defined by products — it is also about education and reproductive care. It's about making sure that people have the needs, support, and choices to decide how they want to take care of their menstrual health. And it's about finally ending the stigma around periods that has prevented not only decision-makers, but also healthcare providers, educators and individuals from ensuring that menstrual health is a priority.
But we know it's more than that. In fact, the definition is growing and changing, as voices from all over the world continue the conversation about period health, product access, affordability, education and safety.
So let's keep talking. Let's keep acting. Let's keep leading…
Bookmark this page to your favorites. Here we share ongoing resources, actions, and events focused on menstrual equity and period health where you can learn, listen and lead. We pull together news articles and headlines so we can see how the media is covering period health. And we share your stories, and our stories. We'll continue to populate this page your posts from Instagram, Twitter, Facebook using hashtags #myperiodNOshame and #MenstrualEquity.
Moving the Mainstream!
The culture of shame that surrounds periods and reproductive health is changing – thanks to so many dedicated activists, advocates, organizations, researchers, reporters and forward-thinking businesses. And thanks to you. But there is still more work to be done! The more we can help get the conversation into the mainstream, the more we can move the mainstream!
What Does Menstrual Equity Mean to You?
We want to hear from you! Please DOWNLOAD and PRINT this flyer. Write a few thoughts on what menstrual equity means to you, snap a pic & post on Instagram, Facebook, or simply email it to us at womensvoices@womensvoices.org. Include hashtags #myperiodnoshame and #menstrualequity so we can find your post and share it here!
#myperiodNOshame
Period Stories
Every story is different. Whether it's your first period, last, or one somewhere in between, we'd love to hear about it! If you'd like to share a story with the WVE community, please click here to submit your story!.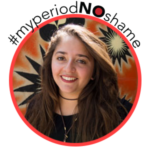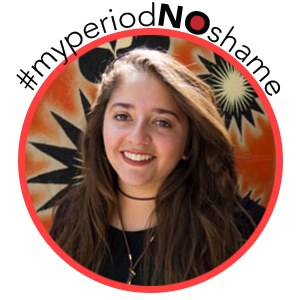 I got my first period when I was 12 after my family and I moved to the United States from Chile...
 I wasn't extremely thrilled about what was happening. I was actually really annoyed since it had come a whole year earlier than it was supposed  to, according to my doctor who predicted I would get it when I was 13.  I believe the stress of moving to a new country, learning a new language, making new friends, and eating different foods caused my period to show up a lot earlier than expected.
– Maria Ignacia Miranda Santis, WVE's Program & Outreach Manager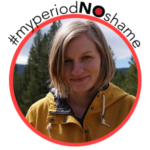 I remember scouring the internet trying to find out whether what I was experiencing was normal...
I was raised in a very quiet family, where there wasn't much discussion and especially not of matters like menstruation and sex. When I started my period in seventh grade, I was surprised, disgusted and fascinated by my body. I remember scouring the internet trying to find out whether what I was experiencing was normal. Today, I have cultivated an appreciation for my cycle, and I relish being part of an organization where we talk about our periods loudly and proudly.
– Robyn Windham, WVE's Director of Development