Note: This list is not exhaustive. The following ingredients are compiled by information available as of Jan 2019. The following tables compare ingredients from 2017 and 2019 to highlight vaginal washes that have removed harmful colorants. Of note, since 2017, both Summer's Eve and Target brand Up & Up have reformulated and no longer use dyes in their washes. Formulations are subject to change.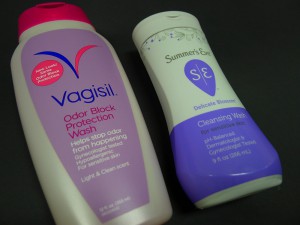 Women's Voices' research identified several "feminine" wash products that contain the colorants FD&C Red No. 33, Ext Violet #2 and Yellow #5. The FDA has recognized use restrictions on these colorants. Specifically:
D&C Red No. 33 and Ext Violet #2 are colorants that are not authorized for use in products which come into contact with mucous membranes.
The use of Yellow #5 requires a specific safety warning regarding allergic reactions when used in drugs that are applied vaginally.
So WHY are these chemicals ending up in products made specifically for vaginal use? Four words: For External Use Only.
While most vaginal wash products have the words "For external use only" on their labels, it's undeniable that even manufacturers expect both the internal and external use of their products. For example, many wash brands make claims such as 'pH balanced' or 'helps maintain a healthy pH balance'. A product could only affect vaginal pH if it is applied to internal vaginal tissue.
The fact that manufacturers are putting chemicals like these colorants into personal care products, further illustrates the need for greater research, attention and scrutiny from the FDA regarding chemicals used in products that come in contact with the vagina – one of the most sensitive and absorbent parts of the body.
The good news is — in response to thousands of you calling for safer ingredients — companies are starting to voluntarily remove these dyes from their products. Unfortunately, this is not universal or regulated.
D&C Red No. 33 can be found in the following washes:
| Product Name | Colorant present 2017 | Colorant present 2019 |
| --- | --- | --- |
| CVS Health Feminine Wash – Sensitive Skin | YES | YES |
| CVS Health Odor Block Cleansing Wash | YES | YES |
| Vagisil Feminine Wash – pH balance | YES | YES |
| Vagisil Feminine Wash – Odor Block | YES | YES |
| Walmart Equate Feminine Wash | YES | YES |
| Walmart Equate Feminine Wash Sensitive Skin Care | YES | YES |
| Walmart Equate pH Balance Feminine Wash- light scent | YES | YES |
| Walmart Equate Orchard Splash Feminine Wash | YES | YES |
| Benzal Odor Block Wash | YES | YES |
| SweetSpot Labs Gentle Feminine Wash Geranium Lavender | YES | NO |
| Intimos Strawberry Feminine Wash | YES | YES |
| Summer's Eve Simply Sensitive Cleansing Wash | YES | NO |
| Summer's Eve Island Splash Cleansing Wash | YES | NO |
| Target Up & Up Feminine Wash For Sensitive Skin | YES | NO |
| Target Up & Up Feminine Wash pH Balance | YES | NO |
Ext. D&C Violet No. 2 can be found in the following washes:
| Product Name | Colorant present 2017 | Colorant present 2019 |
| --- | --- | --- |
| Target Up & Up Feminine Wash – Soft Petal Scent | YES | NO |
| Lagicam Feminine Wash Sensitive | YES | YES |
| Summer's Eve Delicate Blossom Cleansing Wash | YES | NO |
| CVS Health Gentle Flower Cleansing Wash | YES | YES |
| Walmart Equate Petal Feminine Wash | YES | YES |
FD&C Yellow No. 5 can be found in the following washes:
| Product Name | Colorant present 2017 | Colorant present 2019 |
| --- | --- | --- |
| Lemisol Plus Refreshing Cleansing Solution | YES | YES |
| Lemisol Plus Feminine Wash Gentle Daily Cleanser Original | YES | YES |
| Summer's Eve Target Exclusive Aloe Love Cleansing Wash | YES | NO |
| Summer's Eve Morning Paradise Cleansing Wash | YES | NO |
Related information: