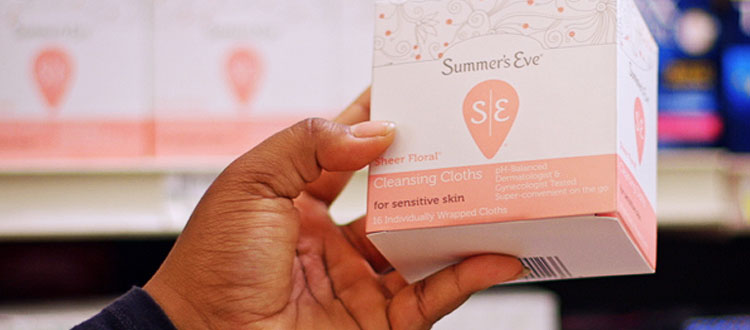 Open Letter to Summer's Eve From Organizations Says Harmful Chemicals are Unacceptable
Update: The coalition continues to grow! In addition to these environmental, health and justice organizations, in 2019, leading researchers, scientists and healthcare providers joined us in calling on Prestige Consumer Healthcare, the makers of Summer's Eve, to address toxic and secret ingredients in their personal care products. Learn more!
—————————————————–
In this open letter to Prestige Brands – makers of Summer's Eve – environmental, health, and justice organizations join us to express alarm about the lack of ingredient transparency, and the toxic chemicals, found in many Summer's Eve wipes, washes and sprays.
The signatories represent hundreds of thousands of people across the country who share our concerns about the dangers these products may pose to women's health.
Outlined in the letter are the various ingredients of concern found in Summer's Eve products following an in-store survey, including carcinogens, unknown fragrance ingredients, powerful allergens and hormone disruptors.
One chemical of particular concern is octoxynol-9, a contraceptive drug that effectively kills sperm. Summer's Eve products containing octoxynol-9, however, are not considered contraceptives, nor are they required to have any caution labeling to their potential effect on a woman's fertility.
We find it especially egregious that these products marketed and sold under the guise of vaginal and sexual health are in fact exposing women to chemicals that can negatively impact their reproductive well-being.
Learn more about our Summer's Deceive campaign here.
January 25, 2018
Ron Lombardi
President & CEO
Prestige Brands Holdings, Inc.
660 White Plains Road
Tarrytown, NY 10591
Dear Mr. Lombardi:
On behalf of the undersigned reproductive justice, public health, and environmental organizations, we are writing to urge you to disclose all ingredients in Summer's Eve feminine care products and eliminate the presence of chemicals linked to cancer and other serious health concerns.
Summer's Eve is the leading brand in feminine care products regulated as cosmetics with approximately $125 million in sales.[1] And feminine care products are manufactured and marketed exclusively to women. These products are specifically intended for use on vaginal and vulvar tissue, which constitute a highly permeable route of chemical exposure. This makes exposure to harmful chemicals in Summer's Eve and other feminine products a vital women's health issue.
Women who use feminine care products have the right to know which chemicals they are being exposed to. Feminine wipes, douches, and powders are designed to have direct contact with absorptive and sensitive vulvar and vaginal tissue. We believe chemicals linked to cancer and reproductive harm do not belong in products regardless of amount.
Women of color are disproportionately impacted by the harmful and unwanted chemicals in feminine wipes. Data compiled by the National Health and Nutrition Examination Survey (NHANES) indicate that Black and Latina women use wipes, douches, washes, and sprays at higher rates than white women.[2] Companies that continue to market feminine products more aggressively to women of color put their health at heightened risk of toxic exposures and adverse long-term health impacts.
Our 2015 store survey of ingredients in feminine care products showed that Summer's Eve products contain more chemicals of concern than other brands, including:[3]
Octoxynol-9: A potent contraceptive drug that effectively kills sperm. However, feminine care products containing octoxynol-9 are not considered contraceptives, nor are they required to have any caution labeling to their potential effect on a woman's fertility. Women who use these products containing octoxynol-9 may be unaware that exposure to this ingredient may impact their ability to get pregnant.
Methylparaben and propylparaben: Found in Summer's Eve cleansing cloths, these preservative chemicals have been shown to cause irritation of vaginal mucous membranes. Exposure to parabens is associated with genital rashes. Studies have also linked parabens to fertility problems and endocrine disruption.
2-bromo-2-nitropropane-1,3-diol: A preservative used in several Summer's Eve wipes, including one product labeled 'Simply Sensitive.' 2-Bromo-2-Nitropropane-1,3-Diol releases formaldehyde, a human carcinogen. Exposure to formaldehyde can cause allergic reactions for those who are sensitized to it. UPDATE 7.11.2019 — because thousands of you took action, Summer's Eve has reformulated and have removed this preservative from their new products! But read labels: Products on the shelves may still contain 2-Bromo-2-Nitropropane-1,3-Diol)
Ext. Violet 2, Red 33, and FD&C Yellow #5: Colorants found in Summer's Eve feminine washes for which the FDA has issued use restrictions.[4] Ext. Violet #2 and Red 33 are not to be used in products that come in contact with mucous membranes, and Yellow #5 requires a specific safety warning regarding allergic reactions in products used vaginally. Though labeled "for external use," Summer's Eve washes are expected to be for both internal and external use, as product labels claim that "it's pH-balanced to work with your body's natural chemistry." Women understand that maintaining a healthy pH in the vagina helps promote good vaginal health. The marketing language on Summer's Eve washes implies and promotes that these products will provide that vaginal (i.e. internal) benefit, whereas there is no scientific rationale or shared understanding of any health benefit from pH balance of external vulvar tissue. UPDATE: 4.3.2019 – In response to public demands, Prestige Brands has removed harmful colorants from their Summer's Eve vaginal washes!! Learn more.
Neutresse®: A trademarked odor-control technology used in many Summer's Eve products. It is the only feminine wipes brand that has such technology, and like fragrance, the ingredients in Neutresse® are withheld from consumers. Potential health impacts are simply unknown.
Fragrance: Used in all Summer's Eve feminine products, but labels offer no fragrance ingredient information. Instead brand website only lists 'Clinically Tested Safe Scents' as one of the benefits to using their wipes products. This is vague marketing language that fails to provide women the ingredient information they need to make their own purchasing choices. Fragrance can be made up of potentially hundreds of different ingredients, many of which are linked to serious health problems from skin irritation to hormone disruption and breast cancer.Undisclosed fragrance chemicals are of special concern in feminine care products given research findings linking vaginal douching with higher levels of phthalates in the body.[5] Phthalates are chemicals of concern for women's health because they are endocrine disruptors and are linked to harmful health effects including reproductive and developmental harm as well as chronic disease risks in adults. They are also thought to be particularly harmful when a developing fetus is exposed in the womb. Specifically, women's higher exposures to DEP during pregnancy have been linked to adverse developmental outcomes in their children.[6][7] The 2015 study found a clear racial disparity, where Black women had phthalate levels 48% higher than those found in white women. A significant amount of this disparity could be accounted for by the fact that Black women were also much more likely to report that they douched regularly.Major manufacturers of personal care products such as Procter & Gamble and Unilever have recently committed to disclosing individual fragrance ingredients on a product-specific basis.[8][9] Disclosing fragrance ingredients is both feasible, and understood as the right thing to do for customers.
For these reasons, we urge Prestige Brands to:
Disclose all ingredients, including fragrance and Neutresse® ingredients, in all of your feminine care products, and highlight fragrance allergens in those products.
Develop a policy to eliminate the presence of ingredients and contaminants linked to cancer, reproductive toxicity, endocrine disruption, and other serious health problems from all of your feminine care products. Additional product screening is necessary to ensure safety of use on mucous membranes.
We hope Prestige Brands prioritizes women's health by seeking to make products free of chemicals of concern. We look forward to hearing from you by February 6, 2018, so that we can arrange a time to discuss this further. Please contact Sarada Tangirala, Director of Corporate Accountability at saradat@womensvoices.org or call (406) 543-3747.
Sincerely,
Erin Switalski
Executive Director
Women's Voices for the Earth
Amber Garcia
Field and Advocacy Manager
Colorado Organization for Latina
Opportunity and Reproductive Rights (COLOR)
Judi Shils
Executive Director
Turning Green
Pam Nixon
President
People Concerned about Chemical Safety
Amy Ziff
Founder & Executive Director
Made Safe & Nontoxic Certified
Rebecca Meuninck
Deputy Director
Ecology Center
Carol Westinghouse
President
Informed Green Solutions
Dev Gowda
Advocate
U.S. PIRG Education Fund
A.Tianna Scozzaro
Director, Gender Equity & Environment
Sierra Club
Nourbese Flint
Policy Director
Black Women for Wellness
Catherine Porter
Policy Director
California Healthy Nail Salon Collaborative
Janet Nudelman
Director of Program and Policy
Breast Cancer Prevention Partners
José Bravo
National Campaign Coordinator
Campaign for Healthier Solutions
José Bravo
Executive Director
Just Transition Alliance
Cindy Luppi
New England Director
Clean Water Action
Pamela Miller
Executive Director
Alaska Community Action on Toxics
Milagros de Hoz
Environmental Health Manager
WE ACT for Environmental Justice
Robert M. Gould, M.D.
President
San Francisco Bay Area Physicians for Social Responsibility
Mike Schade
Mind the Store Campaign Director
Safer Chemicals, Healthy Families
Kathleen A. Curtis, LPN
Executive Director
Clean and Healthy New York
Ann Manning
Director
Women's Congress for Future Generations
Todd Larsen
Executive Co-Director
Green America
Judy Levin
Pollution Prevention Director
Center for Environmental Health
Monica Simpson
Executive Director
SisterSong
Download a PDF of this letter.
---
[1] https://www.briefing.com/investor/analysis/story-stocks/prestige-brands-adds-summers-eve-manufacturer-to-portfolio-for-825-mln-in-cash-(pbh).htm
[2] Zota, A (2012) Descriptive statistics on feminine hygiene use among U.S. reproductive-aged women, NHANES 2001-2004. Personal communication. 2012.
[3] 2015 survey conducted at Target (15555 E. 14th St. Suite 400, San Leandro, CA 94578), Walgreens (Oakland, CA), CVS (Oakland, CA), and Walmart (San Leandro, CA) on April 4 and 5, 2015.
[4] Feminine Washes with Colorants of Concern, https://womensvoices.org/feminine-care-products/feminine-washes-with-colorants-of-concern/
[5] Francesca Branch, Tracey J. Woodruff, Susanna D. Mitro and Ami R. Zota (2015) Vaginal douching and racial/ethnic disparities in phthalates exposures among reproductive-aged women: National Health and Nutrition Examination Survey 2001-2004. Environmental Health. Vol.14. No. 57, July, 15 2015.
[6] Swan SH, Main KM, Liu F, Stewart SL, Kruse RL, Calafat AM, et al. (2005) Decrease in anogenital distance among male infants with prenatal phthalate exposure. Environmental Health Perspectives. 2005;113(8):1056–61.
[7] Engel SM, Miodovnik A, Canfield RL, Zhu C, Silva MJ, Calafat AM, et al. (2010) Prenatal phthalate exposure is associated with childhood behavior and executive functioning. Environmental Health Perspectives. 2010;118(4):565–71
[8] "P&G Expands Transparency Commitment to Include Fragrance Ingredients across Product Portfolio" Procter and Gamble press release. August 30, 2017. Available at: http://news.pg.com/press-release/pg-corporate-announcements/pg-expands-transparency-commitment-include-fragrance-ingred
[9] "Unilever announces new ingredient transparency initiative for its home and personal care brands" Unilever press release, July 2, 2017. Available at: https://www.unilever.com/news/press-releases/2017/Unilever-announces-new-ingredient-transparency-initiative-for-home-and-personal-care-brands.html
allergens in feminine wipes
,
detox the box
,
fragrance allergies
,
fragrance chemicals
,
Neutresse
,
Octoxynol-9
,
Prestige Brands Holdings
,
reproductive health
,
summer's deceive
,
summer's eve
,
toxic chemicals in feminine wipes
,
toxic chemicals in Summer's Eve
,
toxic chemicals in washes
,
unknown fragrance ingredients
,
vaginal health
,
women's health