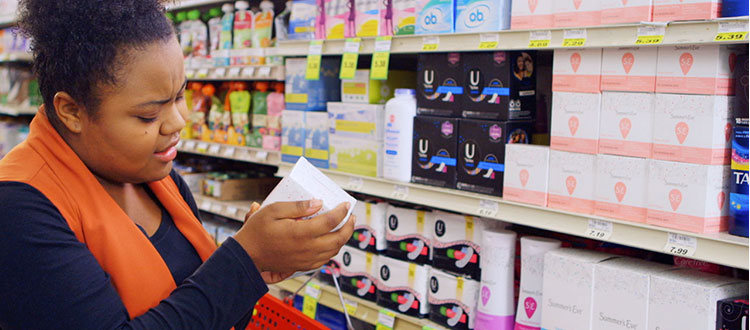 Open Letter to Summer's Eve
UPDATE (3.4.21): Summer's Eve Removes 10 Toxic Ingredients!
For years, WVE supporters have raised their voices through our #SummersDeceive campaign that has included online action and call-in days, participation in protests outside the company's headquarters, and have signed on to our letter from scientists to the company.
We are pleased to report these efforts have paid off! Because you demanded it, Summer's Eve has removed 10 toxic ingredients from their products. This is definitely something to celebrate, but the makers of Summer's Eve still have work to do in addressing harmful practices that can jeopardize our health. LEARN MORE!
—————————————
Environmental, health, and justice organizations from across the nation — and leading researchers, scientists and healthcare providers — have joined WVE in an  open letter (see below) to tell Prestige Consumer Healthcare, the makers of Summer's Eve, that toxic and secret ingredients in personal care products are unacceptable.
This growing coalition is clearly concerned about the impact chemicals in these products may be having on our health. It's long past time Summer's Eve meets our demands to disclose all ingredients (including fragrances) in Summer's Eve douches, washes, wipes and sprays, and eliminate the presence of all chemicals linked to cancer, fertility effects and other serious health concerns.
In the last two years Summer's Eve has reformulated their products to remove dangerous dyes and other harmful preservatives. But there are still critical and considerable disclosure and ingredient safety concerns, not to mention the company's harmful marketing that exploits decades of stigma meant to make people feel ashamed of their bodies.  
Whether you use these products or not, it is unacceptable that a company is allowed to push a product under the guise of vaginal and sexual health, when in fact these products may pose a threat to our health.
————————————
October 22, 2019
Ron Lombardi
President & CEO
Prestige Consumer Healthcare, Inc.
660 White Plains Road
Tarrytown, NY 10591
Dear Mr. Lombardi:
On behalf of the undersigned scientists, researchers and academics we are writing to urge you to disclose all ingredients (including fragrances) in Summer's Eve intimate care products, eliminate the presence of chemicals linked to cancer, fertility effects and other serious health concerns and conduct research to better understand potential health harms from the use of intimate care products.
Summer's Eve is the leading brand in intimate care products. These products are specifically intended for use on vaginal and vulvar tissue, which constitute a highly permeable route of chemical exposure. Furthermore, a considerable body of research has associated use of douches and other vaginal cleansers with greater risk of bacterial vaginosis and vulvovaginal candidiasis.[i][ii][iii][iv]Yet, there is very little research examining the potential for chemicals in douches and vaginal cleansers to disrupt the vaginal microbiome, possibly leading to greater risk of infection.[v] In addition, douching has been linked to increased body burden of harmful chemicals, such as phthalates.[vi]This makes exposure to harmful chemicals in Summer's Eve and other intimate products a vital public health issue.
Chemicals of concern in Summer's Eve Products
Our 2018 store survey of ingredients in intimate care products showed that Summer's Eve products still contain chemicals of concern, including:
Octoxynol-9: (Present in Summer's Eve Douche and Body Powder) A potent contraceptive drug that effectively kills sperm. However, intimate care products containing octoxynol-9 are not considered contraceptives, nor are they required to have any caution labeling to their potential effect on a woman's fertility. Women who use vaginal products containing octoxynol-9 may be unaware that exposure to this ingredient may impact their ability to get pregnant. Octoxynol-9 is also chemically similar to nonoxynol-9. Use of vaginally applied products containing nonoxynol-9 is known to both cause vaginal irritation [vii], and significantly increase risks of HIV transmission.[viii] Octoxynol-9 is simply not an appropriate ingredient for an intimate care product.
Fragrance & Ingredient Transparency
Fragrance can be made up of hundreds of different ingredients, many of which are linked to serious health problems, from skin irritation to hormone disruption and breast cancer.[ix] Summer's Eve brand does not currently disclose the specific fragrance ingredients used in each product, making it impossible for users of these products to avoid fragrance chemicals of concern. For example, there is a variety of allergens very commonly found in fragrance and exposure in sensitized individuals could lead to considerable discomfort. Your customers with allergies deserve the information necessary to avoid the fragrance allergens of particular concern to them.
Undisclosed fragrance chemicals are of special concern in feminine care products given research findings linking vaginal douching with higher levels of a certain phthalate (DEP), a known fragrance ingredient, in the body. Phthalates, in general, are chemicals of concern for women's health because they are endocrine disruptors and are linked to harmful health effects including reproductive and developmental harm as well as chronic disease risks in adults.[x]
Users of intimate care products have the right to know which chemicals they are being exposed to. Personal wipes, douches and powders are designed to have direct contact with sensitive vulvar and vaginal tissue that readily absorbs chemicals. We believe chemicals linked to cancer and reproductive harm do not belong in these products, even at very low concentrations.  Major manufacturers of personal care products such as Procter & Gamble and Unilever have recently committed to disclosing individual fragrance ingredients on every product. Similarly, as you may know, any cosmetic products sold in the European Union must disclose the presence of fragrance allergens on the label. Numerous international manufacturers are also providing the same information for their U.S. customers. Disclosing fragrance ingredients is both feasible and the right thing to do for customers.
Needed Research
Lastly, as the makers of the leading brand in intimate care products, Summer's Eve has a responsibility to its customers to investigate and better understand the links between use of intimate care products and adverse health outcomes such as bacterial vaginosis and vulvovaginal candidiasis. These conditions are very common, and cause considerable morbidity globally.[xi][xii] Your products may be contributing significantly to these adverse conditions. You have both the moral and legal responsibility to produce safe and harmless products for your customers. Further investigations into the prevalence of these conditions among users of your products are needed with greater attention to any modifications that could be made to improve product safety.
For these reasons, we urge Prestige Consumer Healthcare to:
Disclose all ingredients, including fragrance ingredients, in all of your intimate care products, and highlight fragrance allergens in those products.
Eliminate the presence of ingredients and contaminants linked to cancer and other serious health problems from all of your intimate care products.
Develop and disclose a chemical safety policy for Summer's Eve products to address the use of known and emerging chemicals of concern.
Conduct research to better understand potential health harms from the use of intimate care products to ensure safer products.
We understand that at Prestige Consumer Healthcare you focus on products "to better improve the lives of our customers and their world." Indeed, it is your mission to "preserve consumer trust by continuing to provide products stewarded with their needs in mind." We appreciate these laudable goals and encourage you to apply them to improve the safety of Summer's Eve products.
We would be happy to discuss the concerns raised in this letter with you further. Please contact Jamie McConnell, Director of Programs and Policy at (406) 543-3747 or jamiem@womensvoices.org at your earliest convenience to set up a time for a call or meeting.
DOWNLOAD a PDF copy of the letter.
Sincerely,
Alexandra Scranton
Director of Science and Research
Women's Voices for the Earth
Note: Institutional affiliations are listed for identification purposes only.
Ann Blake, Ph.D.
Environmental & Public Health Consulting
Alameda, CA
Ted Schettler MD, MPH
Science and Environmental Health Network
Ames, IA
Meg Schwarzman, MD, MPH
University of California, Berkeley School of Public Health
Berkeley, CA
Steven G. Gilbert, PhD, DABT
University of Washington
Seattle, WA
Nancy Reame, MSN, PhD Emerita Professor
Columbia University, and the University of Michigan
New York, NY and Ann Arbor, MI  
Robin M. Whyatt, DrPH, Professor Emeritus
Mailman School of Public Health, Columbia University
Missoula, MT  
Dr Camilla Mork Rostvik
University of St Andrews
UK
Carol Rinkleib Ellison, Ph.D.
AASECT Certified Sexuality Educator & Diplomate of Sex Therapy
Roseville, CA
Aly Cohen MD FACR
The Smart Human LLC.
Princeton, NJ  
Sharima Rasanayagam, PhD
Breast Cancer Prevention Partners
San Francisco, California  
Bettina Bildhauer
St Andrews, UK
Joan C. Chrisler, Ph.D., Professor Emerita
Connecticut College
Milford, CT  
Taq Bhandal
University of British Columbia
Vancouver, Canada
Magdalen Edmunds, MD,MPH
University of California, San Francisco
San Francisco, CA
Chris Bobel
University of Massachusetts Boston
Boston, MA  
Florence Denmark
Pace University
New York, NY
Paula J. Caplan
Harvard University
Cambridge, MA
Gina Solomon, MD, MPH
University of California, San Francisco
San Francisco, CA
Andrea DeMaria
Purdue University
West Lafayette, IN  
Margaret L. (Peggy) Stubbs, PhD Professor Emerita
Chatham University
Pittsburgh, PA  
Lara Owen
Monash University
Melbourne, Australia  
Laura Contreras
Medicina de Mujer
Bogota, Colombia
Ami R. Zota, ScD, MS
George Washington University
Washington, DC
Cora Roelofs
CR Research / Consulting
Boston, MA
Jill M. Wood, PhD
Penn State
State College, PA  
Nicole Acevedo, Ph.D.
Elavo Mundi Solutions, LLC
Minneapolis, MN
Emily Stewart
The Real Period Project CIC
Bristol, UK
In 2018, WVE was joined by the following environmental, health, and justice organizations from across the nation to express alarm about the lack of ingredient transparency, and toxic chemicals, in Summer's Eve products.
Amber Garcia
Field and Advocacy Manager
Colorado Organization for Latina
Opportunity and Reproductive Rights (COLOR)
Judi Shils
Executive Director
Turning Green
Pam Nixon
President
People Concerned about Chemical Safety
Amy Ziff
Founder & Executive Director
Made Safe & Nontoxic Certified
Rebecca Meuninck
Deputy Director
Ecology Center
Carol Westinghouse
President
Informed Green Solutions
Dev Gowda
Advocate
U.S. PIRG Education Fund
A.Tianna Scozzaro
Director, Gender Equity & Environment
Sierra Club
Nourbese Flint
Policy Director
Black Women for Wellness
Catherine Porter
Policy Director
California Healthy Nail Salon Collaborative
Janet Nudelman
Director of Program and Policy
Breast Cancer Prevention Partners
José Bravo
National Campaign Coordinator
Campaign for Healthier Solutions
José Bravo
Executive Director
Just Transition Alliance
Cindy Luppi
New England Director
Clean Water Action
Pamela Miller
Executive Director
Alaska Community Action on Toxics
Milagros de Hoz
Environmental Health Manager
WE ACT for Environmental Justice
Robert M. Gould, M.D.
President
San Francisco Bay Area Physicians for Social Responsibility
Mike Schade
Mind the Store Campaign Director
Safer Chemicals, Healthy Families
Kathleen A. Curtis, LPN
Executive Director
Clean and Healthy New York
Ann Manning
Director
Women's Congress for Future Generations
Todd Larsen
Executive Co-Director
Green America
Judy Levin
Pollution Prevention Director
Center for Environmental Health
Monica Simpson
Executive Director
SisterSong
---
[i]Brotman, R. M., Ghanem, K. G., Klebanoff, M. A., Taha, T. E., Scharfstein, D. O., & Zenilman, J. M. (2008). The effect of vaginal douching cessation on bacterial vaginosis: a pilot study. American Journal of Obstetrics and Gynecology, 198(6), 628.e1-628.e7. doi:10.1016/j.ajog.2007.11.043
[ii]Brotman, R. M., Klebanoff, M. A., Nansel, T. R., Andrews, W. W., Schwebke, J. R., Zhang, J., … Scharfstein, D. O.
(2008). A Longitudinal Study of Vaginal Douching and Bacterial Vaginosis–A Marginal Structural Modeling Analysis. American Journal of Epidemiology, 168(2), 188-196. doi:10.1093/aje/kwn103
[iii]Ness, R. B., Hillier, S. L., Richter, H. E., Soper, D. E., Stamm, C., McGregor, J., … Rice, P. (2002). Douching in Relation to Bacterial Vaginosis, Lactobacilli, and Facultative Bacteria in the Vagina. Obstetrics & Gynecology,
100(4), 765-772. doi:10.1097/00006250-200210000-00025
[iv]Heng, L. S., Yatsuya, H., Morita, S., & Sakamoto, J. (2010). Vaginal Douching in Cambodian Women: Its Prevalence and Association With Vaginal Candidiasis. Journal of Epidemiology, 20(1), 70-76. doi:10.2188/jea.je20081046
[v]Fashemi, B, Delaney, ML, Onderdonk, AB and Fichorova, RN (2013) Effects of feminine hygiene products on the vaginal mucosal biome. Microbial Ecology in Health and Disease. Vol. 24, 19703.
[vi]Branch, F., Woodruff, T. J., Mitro, S. D., & Zota, A. R. (2015). Vaginal douching and racial/ethnic disparities in phthalates exposures among reproductive-aged women: National Health and Nutrition Examination Survey 2001–2004. Environmental Health, 14(1). doi:10.1186/s12940-015-0043-6
[vii]Roddy, R. E., Cordero, M., Cordero, C., & Fortney, J. A. (1993). A Dosing Study of Nonoxynol-9 and Genital Irritation. International Journal of STD & AIDS, 4(3), 165-170. doi:10.1177/095646249300400308
[viii]Van Damme, L., Ramjee, G., Alary, M., Vuylsteke, B., Chandeying, V., Rees, H., … Laga, M. (2002). Effectiveness of COL-1492, a nonoxynol-9 vaginal gel, on HIV-1 transmission in female sex workers: a randomised controlled trial. The Lancet, 360(9338), 971-977. doi:10.1016/s0140-6736(02)11079-8
[ix]Women's Voices for the Earth (2015) Toxic Chemicals Found in Fragrance. Available at:
[x]Branch, F., Woodruff, T. J., Mitro, S. D., & Zota, A. R. (2015). Vaginal douching and racial/ethnic disparities in phthalates exposures among reproductive-aged women: National Health and Nutrition Examination Survey 2001–2004. Environmental Health, 14(1). doi:10.1186/s12940-015-0043-6
[xi]Foxman, B., Muraglia, R., Dietz, J., Sobel, J. D., & Wagner, J. (2013). Prevalence of Recurrent Vulvovaginal Candidiasis in 5 European Countries and the United States. Journal of Lower Genital Tract Disease, 17(3), 340-345. doi:10.1097/lgt.0b013e318273e8cf
[xii]Hoffmann, J. N., You, H. M., Hedberg, E. C., Jordan, J. A., & McClintock, M. K. (2014). Prevalence of Bacterial Vaginosis and Candida among Postmenopausal Women in the United States. The Journals of Gerontology Series B: Psychological Sciences and Social Sciences, 69(Suppl 2), S205-S214. doi:10.1093/geronb/gbu105