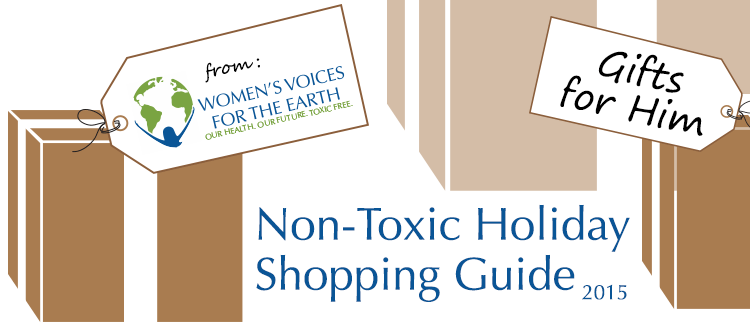 2015 Non-Toxic Shopping Guide: Gifts for Him
Each year, our Non-Toxic Holiday Shopping Guide puts together everything you need to make responsible choices without compromising the fun and excitement of gift-giving. This is the second of a three-blog series on how to find safe, healthy gifts for her, for him and for them (the kids). Tune in each week for more ideas for everyone on your list.
Non-Toxic Gifts for Him
While all the buying around the holidays can sometimes be overwhelming, our Non-Toxic Holiday Shopping Guide gives you the tips you need to flex your economic muscles for good.
This season, give the men in your life a gift that's not only safe for their health; give them a gift that helps change our world. Think we're exaggerating? Think again!
Your dollars have a LOT of power, and companies pay close attention to what you buy. When you purchase a gift from a company making safe products, you're shouting to the world that you want to see a healthy marketplace free from toxic chemicals. Happy browsing!
ONLINE MARKETPLACES & RESOURCES
The Green Guide has product recommendations from gardening and home to clothing and appliances.
Earth Easy provides thoughtful gift ideas with low environmental impact.
Find safe, healthy, and ethical product reviews at Good Guide.
---
PRODUCT RECOMMENDATIONS
General Ideas
Check out Mindful Momma's picks for Greener Safer Better Gifts for Dudes.
From beard oil to sustainable clothing, Nontoxic Revolution's Holiday Gift Guide Dude Edition has some great ideas.
Wood headphones? Why not? Find more creative gifts with Mama Natural's Natural Gifts for Guys.
Browse Dr. Karen Lee's picks for Gifts for Him from our 2014 Nontoxic Shopping Guide.
---
Personal Care
Green shaving products & accessories from Big Green Purse.
---
Accessories
Find satchels, water bottles, reusable coffee cups from State of Green.
---
Electronics
Eco Gadgets from Big Green Purse.
Greenpeace's Guide to Greener Electronics is a fantastic resource.
---
Outdoor
Top Eco-Friendly Camping Gear for Conscientious Outdoor Enthusiasts from Inhabitat.
Check out the Green Gear Guide from the Appalachian Mountain Club.
---
TAKE ACTION
But here's the thing: we envision a world where you don't need a non-toxic shopping guide to find safe gifts, a world where everything is free from harmful chemicals. Help us get there!
Take action to support legislation that will actually protect us from harmful chemicals. Wouldn't that be a sweet gift from our legislators?