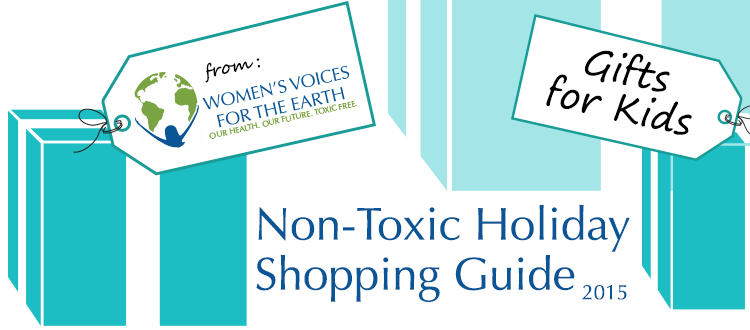 Non-Toxic Holiday Shopping Guide: Gifts for Kids!
Each year, our Non-Toxic Holiday Shopping Guide puts together everything you need to make responsible choices without compromising the fun and excitement of gift-giving. This is the last of a three-blog series on how to find safe, healthy gifts for her, for him and for them (the kids).
Gifts for Them (the Kids)

Moms are one of the most powerful consumer groups in the country. Eco-aware moms (who are interested in buying products that are socially responsible and free from toxic chemicals) hold a whopping $1.75 trillion in buying power. This is a massive amount of consumer power to help shift the marketplace away from harmful chemicals. What better time to wield that power than during the holiday season?
It's particularly important to protect children from toxic chemicals, because little ones are uniquely vulnerable to these exposures. Their developmental processes are easily disrupted, their bodies are smaller and absorb more chemicals, and their bodies' ability to process and get rid of toxic chemicals is significantly lower than adults. The good news is that studies show time after time that active efforts to reduce exposure leads to lower levels of toxic chemicals in the body.
With this in mind, we've put together this guide so that you can not only find safer gifts for your kids—you can use your holiday buying power to help eliminate toxic chemicals altogether!
ONLINE MARKETPLACES
Mighty Nest only sells products that are free BPA, PVC, Phthalates, Lead, Melamine, Formaldehyde, Flame retardants, Parabens and other toxic chemicals.
The Soft Landing has over 1,000 handpicked and carefully researched items for babies and kids – all chosen by a team of moms!
The Mindful Momma Marketplace has some great picks that Mindful Momma herself has tried and loved.
---
PRODUCT RECOMMENDATIONS
Babies (okay, this is really for their parents, but you get the idea)
Stocking stuffer ideas for babies from The Soft Landing
Top 5 Non-Toxic Baby Products from I Thought I Knew Mama
Nontoxic Products for Babies and Moms from Green and Clean Mom
Baby gear suggestions from Healthy Child Healthy World
---
Kids
Stocking stuffer ideas for kids from The Soft Landing
Experiential gifts ideas from Katy Farber of Non-Toxic Kids in our 2014 Holiday Nontoxic Shopping Guide
Toys, clothes, lunchboxes, and art supplies from Big Green Purse
Eco-friendly outdoor play equipment from Inhabitots
Green Pinata Toy Share—the gift that keeps on giving. Rent age-appropriate, educational, non-toxic toys on a monthly or bi-monthly basis.
---
Tweens & Teens
Stocking stuffer ideas for tweens and teens from The Soft Landing
15 Tech-Free Gifts for Tweens and 20 Holiday Gifts for Tween Boys from Groovy Green Livin
Green Gift Guide for Green Teens from TreeHugger
---
TAKE ACTION
We've said it before and we'll say it again. The bottom line is that all products should be safe. None of us should have to be doing this research to find gifts without toxic chemicals; all products should just be safe to begin with.
Join us in asking Congress to pass a law that actually protects us from toxic chemicals in products we use every day!
Until then, we hope you'll enjoy these tips, resources, and product recommendations that will turn you into an expert on non-toxic gift giving, and help you use your economic power to help create a healthier world.
---
Happy holidays from the Women of WVE!
Want more non-toxic gift-giving ideas? Check out our 2015 Gifts for Him and Gifts for Her!