Break the Silence, Break the Toxic Cycle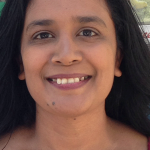 Sarada Tangirala
National Campaigns Manager
If we can't talk openly about periods, we'll never be able to convince policy makers to regulate the feminine care industry. That's why I was pleased to read Abigail Jones' article "The Fight to End Period Shaming is Going Mainstream."
Feminine care products are legally allowed to contain an array of harmful chemicals, and contamination from dioxin and pesticide residues are the tip of the iceberg. From formaldehyde releasers to allergens, spermicides to phthalates, chemicals of concern are coming in contact with some of the most sensitive and absorptive parts of women's bodies.
Less than 20% of the over 80,000 chemicals currently used in the US have been tested for adverse human health impacts. And far fewer chemicals have ever been reviewed for health impacts from vaginal exposures.
Apart from pads and tampons, the market for feminine hygiene includes products intended to make women feel fresh and clean "down there". Douches, intimate wipes, feminine washes, powders and sprays promise to promote good health and even increase sex appeal. But these products present additional risks to women's health.
A jury recently ordered Johnson and Johnson pay over $70 million in damages for its use of talc in feminine powder. Several studies have shown that talc increases risk of ovarian cancer. The case highlights how problematic is can be to allow a chemical's use until is has been proven unsafe, a question mark that makes women guinea pigs in a toxic experiment.
When you can speak freely about the products you use on and in the vagina — when you can talk openly about your period – then, we can break the cycle of toxic chemical exposures.
You can help break the cycle by sharing our Detox the Box video on Facebook or Twitter.
Or TAKE ACTION! We're heading to Washington, DC on May 23 to tell Congress, it's time they care about feminine care. PERIOD. Please join us in person or in spirit! Learn more.