Update 6.14.2017: What an amazing day! Women from all over the nation gathered in Washington, DC to rally, lobby and raise awareness about the serious gaps in feminine care product safety. Standing at the steps of Capitol Hill, women spoke from the heart – for a snapshot into what they said, CLICK HERE!
Following the rally, Congresswoman Meng hosted the first-ever menstrual hygiene panel discussion on Capitol Hill about her legislation and other barriers to feminine care. The panel included representatives from Seventh Generation, Period Equity, United Nations Population Fund, Bringing Resources to Aid Women's Shelters (BRAWS), and WVE's Director of Science and Research, Alexandra Scranton, who shared insight into hidden toxic chemicals in feminine care products and women's health.
It was a powerful day, but the fight isn't over and neither is the conversation; when women can speak freely about the products they use near and on their vaginas, we can break the cycle of toxic chemical exposures. Click here for ways to raise your voice and reduce your exposure!
——————————————————————–

There's a movement sweeping the nation that's standing up for women's rights. Women's health continues to come second for many decision makers and it's clear that now, more than ever, Congress needs to hear from you that your health is nonnegotiable.
Are you ready to take a stand?
In cooperation with Congresswoman Grace Meng, Women's Voices for the Earth is heading to Washington, DC on May 23 to demand your right to safe feminine care products. Join us! 
Speakers include:
Additional support organizations include Turning Green, Black Women for Wellness, Environmental Working Group, Safer Chemicals Healthy Families, Sierra Club, Support the Girls, and New Voices for Reproductive Justice.
When and where:
– May 23, 2017
– Capitol Hill – House Triangle
(The House Triangle is located in the grassy triangle on the House side of the Capitol's East Front. The nearest Metro stop is Capitol South located on the blue & orange line. For additional details and a picture, click here.)
– 12:00 PM – 1:00 PM EST
(please plan on arriving ten min. before start time)
– Optional: Wear red and/or white. Bring a sign that best represents your message to Congress. Creativity welcomed!
Detox the Box
On average, a woman will use over 16,000 tampons in her lifetime, yet companies aren't required to tell you what they put in them. You have the right to know what ingredients are being used in tampons or pads, and the right to know they are safe.
Right now, toxic chemicals like talc, formaldehyde releasers and parabens can be used in feminine wipes, douches, feminine washes and feminine deodorant products. Black and Latina women bear the burden of exposure because they tend to be higher users of these products.
It's time to stop the toxic assault.
Join us on May 23 to…
Show a united front from women across the nation that you need, want and deserve safe products.
Show Congress that you want to know what ingredients are used in feminine care products and know they are safe.
Generate national attention about toxic chemicals in feminine care products.
Highlight the disproportionate impacts Black and Latina women suffer as the result of being higher users of feminine care products such as douches & wipes.
Celebrate women's leadership and your ability to move mountains!
Please RSVP on our Facebook Event page or email us at womensvoices@womensvoices.org. If you can't attend in person, there are day-of actions you can take from home. In solidarity!
Get Fired Up!
Learn more about chemicals of concern hiding in feminine care products. Here are some resources, fact sheets, actions and more to read, watch and share! Because toxic chemicals don't belong in feminine care products. Period.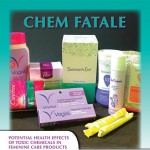 Potential Health Effects of Toxic Chemicals in Feminine Care Products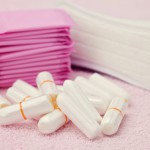 Common ingredients found in tampons, pads, feminine washes, vaginal douches and more.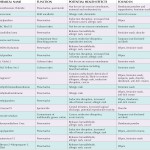 This list includes chemicals of concern that are discussed in our Chem Fatale report.
Watch and share our hilarious spoof music video with
a serious message: Detox the Box!
Detox the Box Advisory Committee