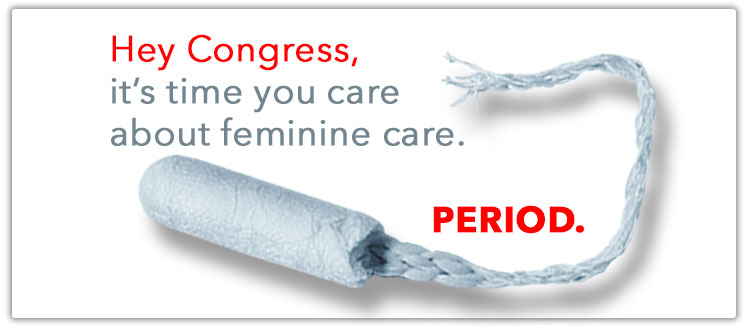 Tell Congress, It's Time To Care About Feminine Care. PERIOD.
Update 6.14.2017: What an amazing day! Women from all over the nation gathered in Washington, DC to rally, lobby and raise awareness about the serious gaps in feminine care product safety. Standing at the steps of Capitol Hill, women spoke from the heart – for a snapshot into what they said, CLICK HERE!
Following the rally, Congresswoman Meng hosted the first-ever menstrual hygiene panel discussion on Capitol Hill about her legislation and other barriers to feminine care. The panel included representatives from Seventh Generation, Period Equity, United Nations Population Fund, Bringing Resources to Aid Women's Shelters (BRAWS), and WVE's Director of Science and Research, Alexandra Scranton, who shared insight into hidden toxic chemicals in feminine care products and women's health.
It was a powerful day, but the fight isn't over and neither is the conversation; when women can speak freely about the products they use near and on their vaginas, we can break the cycle of toxic chemical exposures. Click here for ways to raise your voice and reduce your exposure!
---
On May 23, women from all over the nation are rallying on Capitol Hill in Washington DC to demand your right to safe feminine care products. Women deserve to know what ingredients are used in the products we put in and on our bodies, and that the ingredients are safe. This is why we're taking action, and asking congress to care about safe feminine care. PERIOD.
Can't be there in person? You can still raise your voice by calling your representative and asking them to support the Menstrual Products Right to Know Act (HR 2416) and the Robin Danielson Feminine Hygiene Safety Act (HR 2379).
These bills were introduced in Congress by two trail blazing women, Representative Carolyn Maloney (D-NY) and Representative Grace Meng (D-NY) and require the disclosure of ingredients in tampons and pads, and research into the health impacts of ingredients used in feminine care products.
Stand with us in DC by calling your representative on TUESDAY MAY 23 and ask them to support these bills!
How to call-in
Click here to find your representative. Click on your representative and then scroll down to find their office phone number.
Or call the switchboard directly at (202) 224-3121 and ask the operator to connect you with your representative.
Calling your representative only takes a few minutes. Feel free to use the following call script or put it into your own words!
"Hello, I'm calling to ask Representative _____ to support and co-sponsor the Menstrual Products Right to Know Act (HR 2416) and the Robin Danielson Feminine Hygiene Safety Act (HR 2379). Some ingredients used in feminine hygiene products are linked to cancer, infertility, and allergies. I have a right to know what ingredients are being used in tampons and pads. We also need more research into the impacts ingredients in feminine care products have on women's health. Thank you."
Now, more than ever, Congress needs to hear from YOU.
Email Your Representative
If you haven't already, you can also email your representative, today. To email your representative about the Menstrual Product Right to Know Act, click here; for the Robin Danielson Feminine Hygiene Safety Act, click here.
P.S. check out our Facebook page to follow the rally live on TUESDAY May 23, at 12PM Eastern time.
Optional: Whether at the rally or from home, wear red and/or white. Bring a sign that best represents your message to Congress, or share your photo on social media and include hashtag #detoxthebox. Creativity welcomed!