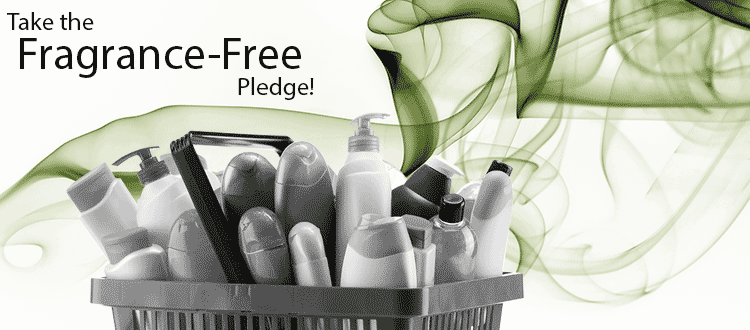 Take the Fragrance-Free Pledge!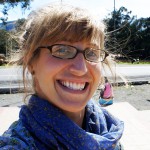 Beth Conway
Communications Director

Fragrance scents can be found in almost anything: cleaners, personal care products, perfume, tampons and pads, air fresheners, and even baby pacifiers … the list is endless! And unfortunately, these fragrances are exposing us to thousands of chemicals, some of which are toxic, and many of which are known allergens, like limonene and linalool. What's more – all fragrance chemicals are usually kept secret from the public. Frustrated? Me too!
We know this pledge is tricky. Fragrance is everywhere. But until we have 100% full fragrance ingredient disclosure, and until we know those ingredients are safe, we can reduce our exposure to toxic chemicals by choosing fragrance-free options when available. Even by eliminating one fragranced product from our daily routine (whether this is a lotion, detergent, air freshener, shampoo or dryer sheet) means we're taking important steps to avoid chemicals linked to allergies, hormone imbalance and increased risk of breast cancer.
The Problem with Fragrance
Fragrance chemicals like synthetic musks and phthalates, for example, have been detected in blood, urine and fat tissue in nearly every human tested. The levels of these chemicals in our bodies appear to be linked to the amounts of fragranced products we use. For example, one study found that greater use of fragranced laundry detergent during pregnancy led to significantly higher levels of synthetic musks in the woman's breast milk. Women can pass these chemicals on to developing children when they breast feed. Another study found higher levels of musks in the blood of women who regularly used fragranced body lotion, deodorant and perfumes. i
Fragrance Safety … Stinks
Considering we are exposed to fragrance every day, it's shocking that there are very few regulations over the ingredients used in fragrance. The current system for fragrance safety is run entirely by the fragrance industry — and when this self-regulating program is green-lighting chemicals like phthalates, carcinogens and allergens, we have some major questions regarding the integrity of its safety standards.
Solutions
Take the Fragrance-Free Pledge! You'll reduce your exposure to unnecessary toxic chemicals – and you'll also help send a powerful message to manufacturers that you want safe products and have the right to know exactly what's in the products you bring into your homes. Click here!
Tips on avoiding fragranced products:
Read labels for the term "fragrance" or "perfume". And remember, "unscented" does not necessarily mean fragrance-free. Fragrance chemicals are often used to mask natural scents in "unscented" products like deodorant and soap.
Check out our alternatives to fragranced cleaning products. Get the "clean" smell without the toxic chemicals.
In addition, there are several things that need to happen to help ensure the safety of fragrance ingredients:
Federal and state legislation is needed that requires product-specific disclosure of fragrance ingredients.
In the meantime, manufacturers should voluntarily disclose fragrance ingredients on a product-specific basis. Some manufacturers like Procter & Gamble,  SC Johnson & Son, RB, and Clorox have already begun to disclose more fragrance ingredients.
Manufacturers should develop and disclose their comprehensive toxic chemical screening process which details how they ensure the safety of their products, including their fragranced products.
———————-
i. http://www.ncbi.nlm.nih.gov/pubmed/18800558