Clorox Breaks Secrecy Around Fragrance Ingredients
Company announces disclosure of fragrance allergens in response to consumer demand
FOR IMMEDIATE RELEASE – September 16, 2014
Clorox announced today that it would begin disclosing fragrance allergens in its cleaning and disinfecting products in the U.S. and Canada, becoming the second major cleaning product company to do so. (Reckitt Benckiser (Airwick, Lysol) began disclosing fragrance allergens in its U.S. products earlier this year.) Clorox's disclosure represents another huge step forward in breaking the airtight secrecy companies have maintained around fragrance ingredients in consumer products.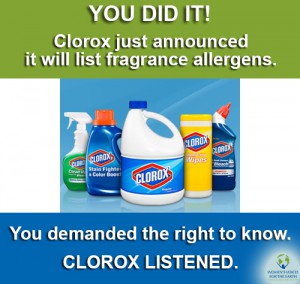 "As a household name in this country, Clorox's move to disclose fragrance allergens means that millions of people will have more information to protect their health and the health of their families," said Erin Switalski, executive director at Women's Voices for the Earth (WVE). "People want to be able to avoid potentially harmful ingredients in products they use everyday, and we applaud Clorox for listening to its consumers' concerns."
Clorox announced that allergens will be disclosed online on the company's Ingredients Inside website and smartphone ingredient app beginning in early 2015.
In 2013, Women's Voices for the Earth released the report Secret Scents: How Hidden Fragrance Allergens Harm Public Health that found that tens of millions of people suffer from fragrance allergies. Consumers in the U.S. have virtually no way to avoid chemicals that trigger allergic reactions because federal laws don't require disclosure of ingredients used in cleaning products. In the European Union, cleaning product companies are required to disclose the presence of allergens.
Chemicals of concern in fragrance are linked to allergies, cancer, birth defects and infertility, yet companies maintain these ingredients are trade secrets. The only ingredient information consumers usually see on a label is the word "fragrance". Yet, any one fragrance can be a mixture of up to 100 different chemicals, out of more than 3,000 commonly used fragrance chemicals.
In 2011 Clorox was the first major company to increase disclosure of fragrance ingredients with the publication of a master list of 1,200 fragrance ingredients used in all their products, although the ingredients on that list are not associated with specific products. The company's announcement to list fragrance allergens will give consumers the information they need to avoid allergens in a specific product.
Clorox's major competitor SC Johnson (Glade, Windex) has yet to commit to disclosing fragrance allergens in the U.S., although the company lists fragrance allergens in its E.U products.
"We hope that SC Johnson will follow Clorox's lead and increase fragrance ingredient disclosure," Switalski said, noting that WVE's "Glade's Toxic Secrets" campaign and spoof website, www.whatsreallyinsidescjohnson.com, has led to more than 60,000 consumers urging the company to make this change.
###
Women's Voices for the Earth amplifies women's voices to eliminate toxic chemicals that harm our health and communities. With members across the United States and Canada, WVE changes corporate practices, holds government accountable, and works to ensure a toxic-free future for all. Learn more at womensvoices.org.
——————————
MEDIA CONTACTS
Beth Conway, bethc@womensvoices.org, (406) 543-3747, office