Harmful Chemicals to Avoid in Products Women Use Every Day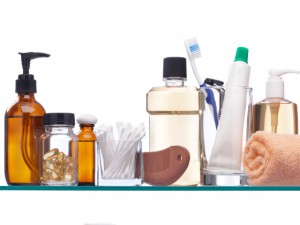 Did you know that there are toxic trespassers lurking in some of the products we use every day? Some of these chemicals are getting into our bodies and may be causing health problems. The following chemicals are of concern, particularly to women's health.
You can learn more about these chemicals through the Women's Voices reports and fact sheets in italics under the chemical name.
Chemical
Where It's Found
Potential Health Problems
Avoiding It
1,4-dioxane
No More Toxic Tub
Products that create suds, like shampoo, liquid soap, bubble bath, hair relaxers
– cancer
– birth defects
Read labels to avoid chemicals that may signal the presence of 1,4-dioxane, like sodium laureth sulfate, PEG, "ceteareth", and "oleth".
2-butoxyethanol
Household Hazards
Glass cleaners, all-purpose spray cleaners
– reduced fertility
– low birth weight
Make your own non-toxic cleaners with WVE's recipes, or buy from the few companies that disclose all ingredients on the label and look to avoid it.
Alkyl phenol ethoxylates (APEs)
Household Hazards
Laundry detergents, stain removers, and all-purpose cleaners
– reproductive harm
Make your own non-toxic cleaners with WVE's recipes, or buy from the few companies that disclose all ingredients on the label and look to avoid it.
Bisphenol-A (BPA)
No Silver Lining
Plastics like baby bottles, sippy cups, water bottles, and children's toys; can linings
– breast cancer
– early puberty
– hormone disruption
Opt for fresh or frozen foods instead of canned, look for plastics labeled "BPA-free" and never microwave plastic.
Formaldehyde
Glossed Over
The Blowup on Blowouts
Some nail products, shampoos, body washes, chemical hair straighteners
– cancer
– skin and respiratory irritation
Look for nail polishes and hardeners labeled "three-free" or "formaldehyde-free" and avoid chemical hair straighteners.
Hydroquinone
Toxic Products Marketed to Black Women
Skin lighteners
– cancer
– immune system damage
– reproductive and developmental harm
Avoid skin lighteners with hydroquinone listed on the label.
Lead
A Poison Kiss
Pretty Scary
Some lipsticks and other cosmetics, sunscreens, whitening toothpastes, children's face paint
– reproductive and developmental harm
– nerve, joint, and muscle disorders
– heart, bone, and kidney problems
Contact the company and ask if lead is a contaminant in the product.
Monoethanolamine (MEA)
Household Hazards
Some laundry detergents, all-purpose cleaners and floor cleaners
– occupational asthma
Make your own cleaners with WVE's recipes or buy from the few companies that disclose all ingredients on the label and look to avoid it.
PBDEs (Flame retardants)
Flame Retardants in Baby Products
Polyurethane foam padding in furniture, children's products
– reproductive and developmental harm
– thyroid hormone disruption
Avoid products containing polyurethane foam which indicate "TB117 compliant" on the label.
Look for products stuffed with cotton, polyester or wool instead of foam.
Phthalates
Glossed Over
What's That Smell?
Not So Sexy
Fragrances in cleaning products, personal care products, cosmetics & nail polish
– reduced fertility
– increased risk of breast cancer
– genital malformations in baby boys
– increased allergic symptoms and asthma in children
Avoid products with synthetic fragrance; look for fragrance with essential oils or products labeled "fragrance-free." Look for nail polishes labeled "three-free" or "phthalate-free."
Sodium laureth sulfate
No More Toxic Tub
Soaps, shampoos, toothpaste, and products that create suds
– products containing these chemicals may contain 1,4-dioxane (see above)
Read labels to avoid products containing sodium laureth sulfate.
Synthetic musks: galaxolide and tonalide
What's That SmellGalaxolide GreenScreen
Fragrances, such as in cleaning products and personal care products
– hormone disruption
– breakdown of the body's defenses against other toxic exposures
– increased risk of breast cancer
Avoid products with synthetic fragrance; look for fragrance with essential oils or products labeled "fragrance-free."
Toluene
Glossed Over
Nail salon products
– headache, dizziness, fatigue
– eyes, nose & throat irritation
– reproductive and developmental harm
Look for nail polishes labeled "three-free" or "toluene-free."
Quats (quaternary ammonium compounds)
Disinfectant Overkill
Antibacterial hand & dish soaps, some disinfectant products like wipes and sprays
– skin and lung irritation
– asthma
– fertility issues
– reproductive harm
Reduce use of disinfectants. Read labels and avoid products with the following ingredients:
– Benzalkonium chloride
– Benzethonium chloride
– Alkyl dimethyl benzyl ammonium chlorides (C12-16)
– Alkyl dimethyl benzyl ammonium chloride (C14 60%, C16 30%, C12 5%, C18 5%)
– Alkyl dimethyl ethylbenzyl ammonium chloride (C12-14)
– Alkyl dimethyl ethylbenzyl ammonium chlorides (C12-18)
– Didecyldimethylammonium chloride
– Dioctyldimethylammonium chloride