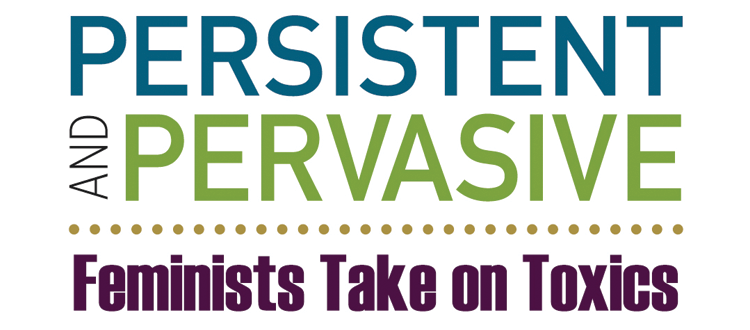 New Podcast Persistent and Pervasive: Feminists Take on Toxics
Women are exposed to many chemicals of concern on a daily basis from the use of personal care products, cosmetics, and cleaning products. As awareness of toxic chemicals in these products has increased, feminist scientists and activists are drawing attention to the real adverse health effects they pose and have mobilized to work towards creative and radical solutions. Sally Edwards, an environmental health scientist, long-time feminist, and Board Member at Women's Voices for the Earth, has been gathering stories from these experts and activists and wants to share them with you in her new podcast, Persistent and Pervasive:  Feminists Take on Toxics.
This brand-new series, which is co-produced by media producer and archivist Anna Mason, is a "crash course" in feminist environmental health. Each episode focuses on a product marketed to women and girls and describes the toxic chemicals in the product, the disproportionate exposures often faced by women of color and/or of  lower socio-economic status, and the work that feminist scientists and activists are doing to solve these problems. These include cleaning products, cosmetics/personal care, menstrual/intimate care products and more. 
The newly released pilot episode centers on toxic chemicals in menstrual and intimate care products — and includes interviews with WVE's Director of Science and Research, Alex Scranton, and Deputy Director, Jamie McConnell. As hosts, Sally and Anna give a brief history of how these products have been developed and marketed and then interview experts about the toxic chemicals in them and the ways that feminist scientists and activists are creating solutions.
You can listen here or find Persistent and Pervasive on Apple and Google podcasts, Spotify and Stitcher.
3 minute trailer
Pilot episode
For their next episode the Persistent and Pervasive team will dive into the topic of cleaning products  (especially topical in 2020). They will describe the toxic chemicals in many cleaning and disinfecting products, how the use of these products is increasing during the Covid-19 pandemic, the exposures faced by cleaning workers, and the solutions that feminist scientists and activists are developing and promoting, including green chemistry alternatives.  We can expect that episode in early 2021 with more to come soon after!
Podcasting is such an important communication tool, and Persistent and Pervasive is helping to expand the audience of those who care about women's bodies and women's health. This is something we all need to continue to work toward, and WVE is excited to see where Sally and her team takes this project!
For questions or comments, contact the Persistent and Pervasive team at PersistentandPervasive@gmail.com