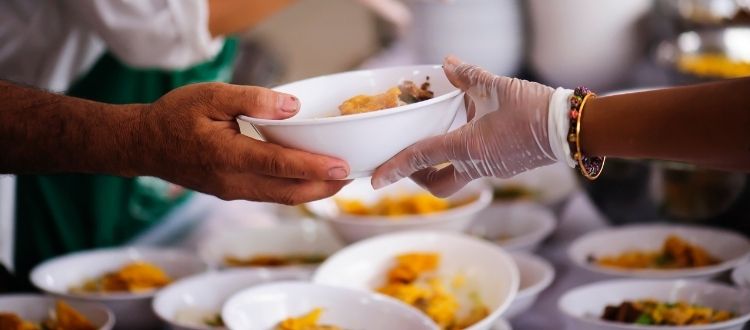 Lighten Your Footprint This Holiday + Donation Guide
CLICK HERE to download and print a copy of our donation guide.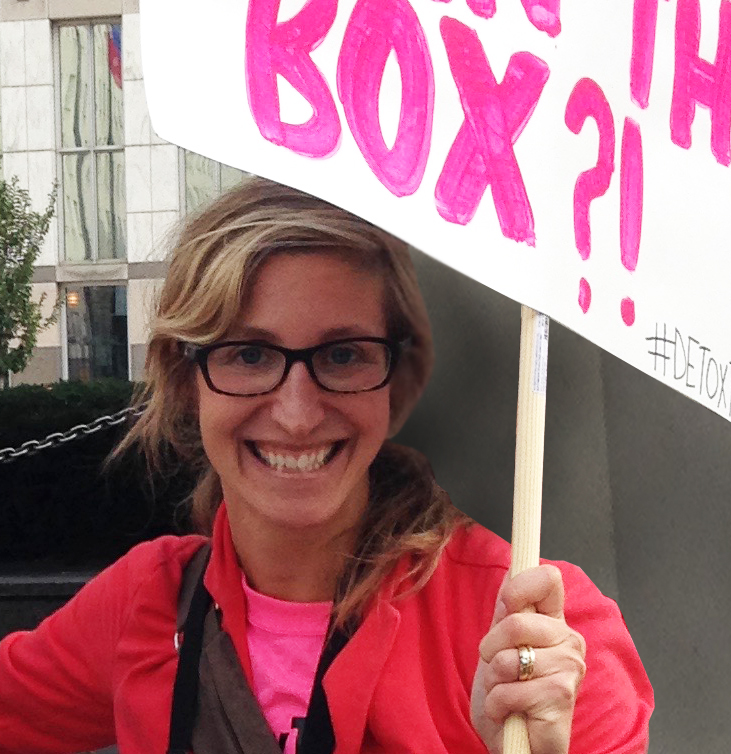 Beth Conway
Communications Director
Black Friday and Cyber Monday have become a kind of holiday ritual where we celebrate buying things for the sake of buying things. Taking advantage of great savings isn't a bad thing – nor is giving gifts. But unfortunately these days are not about gift giving or savings. They've instead become the ultimate consumer FOMO — creating a sense of urgency that tells us we MUST take advantage of a deal — whether it's a product we need (or even want) or not.
Overconsumption of 'stuff' is wreaking havoc on our environment. Online shopping may be particularly problematic; bundle shipping has become a thing of the past, which means our online-carts are being sent in individual packages and additional delivery trucks. And in the midst of COVID-19, our online shopping is up now more than ever. So is our waste: more boxes, more plastic packaging, more emissions, more stuff – more more more. It's predicted that online holiday shopping this year will increase by 43% from 2019.
There's no doubt – we're weathering a challenging time. But the good news is we can make decisions that lighten our footprint and prioritize health. Here's a few ideas to get you started.
Shop Less & Shop Local
DIY It! Non-toxic DIY gifts help reduce waste and consumption, limit exposure to harmful chemicals and save money. Take a look at some of WVE's favorite non-toxic cleaning and self-care recipes. Food items are also always a hit, or thrift stores are a great source for treasures, up-cycles, and materials needed for creative wrapping or crafting.
Repair, Don't Replace: Many of us are guilty of throwing something away that could have easily been fixed. Time to invest in repairing instead of replacing – do this for yourself or as a gift for a friend. Saves waste and money. No brainer.
Give Experiences, Not Stuff: COVID-19 has limited how and where we can interact with the people that mean the most to us, but that doesn't mean we can't fill our calendar with future events or get creative in how we invest time — not just $ — in the people we love most.
Keep it in Your Community: If you do have some specific gift items on your list – shop local. So many of our local businesses have been bit hit incredibly hard by the pandemic, so help keep their doors open by spending your money in your community. Buy directly from artists, craftsmen and farmers. You can also support local service businesses by buying gift cards to favorite restaurants, bodegas or breweries, get a class punch-cards from a favorite gym, or book a few salon visits in advance.
Give Back
Volunteer: Shovel your neighbor's driveway, deliver food, rake someone's leaves … volunteering opportunities have shifted in many cities during the time of COVID-19, but there are many organizations — locally and nationally — that still need help, especially during this cold and busy time of year. Ask your favorite groups, causes, and organizations for suggestions of how to best use your time and talent to support work you believe in.
Donate: Making a gift on behalf of yourself, or someone else, is a beautiful way to make a positive difference in the world. There are incredible humanitarian, environmental, worker's rights, and health organizations that could use your help now more than ever. You can also make a huge impact in your local community by donating to direct service groups like food banks or shelters in your area.
Best Practices Guide for Donating to Food Banks and Shelters
Click here to download and print a copy of our donation guide.
Many non-profits serving our local communities are in need of donations like personal care products and non-perishable food items. But before searching your pantry or closet for a forgotten can of beans or a dusty bottle of shampoo, take a moment to consider what items you would use on your body or what food would you want to serve for your family. Is the food I'm donating a healthy option I would have at home? Are the ingredients used to make these products safe?
We all deserve safe, healthy products – so let's do our best to ensure products we donate are on par with those we would bring into our own homes. Here are a few best-practices to follow.
Personal Care and Cleaning Products
Avoid Fragranced Products: No matter if you are donating a lotion, cleaner, hand-sanitizer, laundry detergent, or tampons — avoid fragranced products. Harmful reactions to fragrance ingredients are incredibly common and widespread; studies show nearly 35% of the population report acute reactions such as migraines, asthma attacks or rashes when exposed to fragrance. Common fragrance chemicals include phthalates (linked to reproductive and developmental harm) and allergens. Warning: "Unscented" does not always mean fragrance-free. (Click here for more facts on fragrance.)
Avoid Products that Hide Ingredients: There is no federal law in the United States that requires manufacturers of cleaning products to disclose the ingredients they use to make their products. In addition, there is no federal law that requires ANY company — whether they make cleaning, personal or menstrual care products — to disclosure what chemicals they use to make the scents that go into their products. However, many companies are now choosing to voluntarily disclose their ingredients. Read labels and websites and choose those companies that are transparent about their ingredients.
Additional tips include:
Menstrual Care Products: In case you missed it before, I'll say it again: Avoid scented products and those that do not fully disclosure their ingredients. Choose chlorine-free bleach or unbleached tampons and pads, or consider donating more sustainable options like a menstrual cup or period underwear.
Wipes: Intimate wipes or baby wipes are often requested items, especially at shelters. Avoid products with fragrance or dyes, or the most problematic preservatives like allergens Methylisothiazolinone and Methylchloroisothiazolinone (MI & CMI) & Iodopropynyl butylcarbamate (IPBC), parabens, or formaldehyde releasers DMDM hydantoin and 2-bromo-2-nitropropane-1,3-diol.
Deodorants, Toothpaste, Dental Floss, Lip Balm, Shampoo, Soap, Sunscreen etc: Avoid dyes and read the label to avoid chemicals like parabens, sodium laureth sulfate, oxybenzone, and PTFE or fluoro which are PFAs ingredients. Better yet, check the Skin Deep database at www.cosmeticsdatabase.com to find safer products.
Dryer Sheets: Don't donate dryer sheets. Dryer sheets fill the air with unknown fragrance chemicals, VOCs (volatile organic compounds) linked to respiratory irritation; quats, linked to asthma; and acetone which can cause nervous system effects like headache or dizziness.
Disinfecting Wipes & Sprays: Avoid disinfectants that contain active ingredients like chlorine bleach or ammonium quaternary compounds "quats" – which are linked to health concerns ranging from chemical burns to reproductive harm. Instead, look for disinfectants with safer and effective active ingredients like alcohol/ethanol/isopropanol, hydrogen peroxide, lactic acid, citric acid or thymol. Here's a GREAT resource from the SF Department of Environment for finding safer alternatives.
Food Donations
When it comes to food items, avoid donating the following:
Foods that need refrigeration or that easily spoil. Stick to non-perishable items. In order to provide fresh produce, meats, dairy, and baked-goods, many food banks work directly with local retailers, farmers and restaurants to source perishable foods.
Expired food. Some expired food can be donated (my local food bank's rule of thumb is they will not take canned goods 2 years past expiration date, or dry goods 1 year past expiration date). But again, keep in mind, if you would not feel comfortable serving an item of food to your family, please do not expect this of others.
Damaged, dented, rusted, ripped cans, jars or boxes of food — or any food that has already been opened.
Candy or soda or alcohol.
Home-baked foods or leftovers. Food banks need to be able to verify ingredients and food preparation processes.
Avoid BPA, if possible. BPA and BPS exposure is linked to a host of hormone-related health impacts such as increased risk of cancer, infertility and obesity. Avoiding these chemicals can be challenging when it comes to purchasing canned items. Consider alternative packaging like cardboard brick-shaped cartons*, or — if your donation center accepts them — safer glass containers or ceramic containers.
I'd also skip donations of microwave popcorn with PFAs. Exposure to PFAs chemicals is linked to cancer, obesity, thyroid disease, weakened immune system response, decreased fertility, learning delays in children. Food-linked exposures to PFAs chemicals is often from fast-food packaging. However, these chemicals are also frequently found in microwave popcorn bags.
And finally, if you are not sure what to give, check with your local food bank and shelters to find out what donations they are in need of most.
*Most cardboard cartons are made with a product called Tetra Pak or SIG Combibloc, which do not contain BPA. While recyclable, unfortunately, many recycling facilities do not have the machinery to recycle these products.
CLICK HERE to download and print a copy of our donation guide.