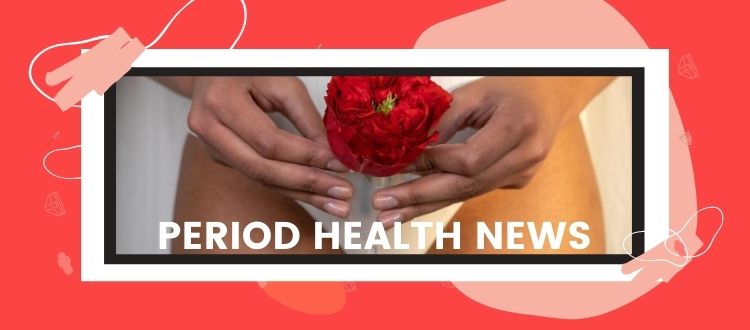 Period Health News – July 2020
What is the period health news? WVE's Period Health News is posted monthly, featuring the latest news and updates in menstrual health. It highlights WVE's work in the menstrual health space and seeks to amplify the menstrual health and menstrual equity work worldwide. Have a story to share or an organization you would like us to highlight? Email our Digital and Communications Coordinator at zonyad@womensvoices.org
Black Lives Should Matter in the Medicine Cabinet, Too

By: M. Isabelle Chaudry, Esq.
Johnson & Johnson's CEO pledged to address racism and stand in solidarity with the Black Lives Matter movement. But coming from J&J these words ring hollow. Targeting Black communities with predatory marketing for products linked to cancer is not a sign that Johnson & Johnson cares about the Black community. If it did, the company would commit to addressing the harm of their products.
On May 19th, Johnson & Johnson announced they will discontinue production of its talc-based baby powder in the United States and Canada. This announcement comes after multiple allegations, lawsuits and an eventual $2.1 billion settlement to plaintiffs who claimed that J&J's talc-baby powder product caused their ovarian cancer. The courts agreed stating "plaintiffs proved with convincing clarity that defendants engaged in outrageous conduct because of an evil motive or reckless indifference."
Unfortunately J&J's reckless indifference continues — as does the company's history of targeting and marketing its products to historically marginalized communities. For while J&J's US and Canadian productions of talc-based powder comes to a halt, the company will sell existing stock to retailers here until it runs out— and will continue selling its products abroad, particularly in predominately Black and Brown communities like Africa, where it has operations in South Africa, Ghana, and Kenya, and in Brazil, which is home to all three of its business segments.
—————————————————————————
UPDATE
AB 1989: Ingredient Disclosure and Corporate Influence

AB 1989 was introduced in California this legislative session by Assemblymember Cristina Garcia to increase the disclosure of ingredients in menstrual products. The bill allows companies to withhold ingredient information as confidential business information (CBI) but does not allow ingredients to be withheld as CBI if they appear on the California Department of Toxic Substances Control's Candidate Chemicals List. From the get-go Women's Voices for the Earth had serious concerns about the bill and opposed it unless the bill was amended.
—————————————————————————
Period Health Headlines From Around the Globe
A Call for Accountability: Anti Blackness in The Menstrual Justice Space
Awards, platforms, and money are not distributed equally among organizations working on a grassroots and local community base especially to those who are black and brown. Due to erasure, it is incredibly important that we give spotlight to black grassroots organizations doing on the ground work. Read more.
Permission Required to Change Your Tampon
This year, states are limiting law grads' access to menstrual products and opportunities to pump breastmilk during the bar exam. This policing of when someone can change their tampon or if and when someone can pump raises serious sex discrimination concerns. Read more.
Protesters Say Tear Gas Caused Them to Get Period Multiple Times in a Month
"I started feeling a lot of cramping," Stewart says, the worst cramps they'd ever had. "A few hours later, I started my period." What was strange, though, was that Stewart's period had just ended the week before.  Read more.
About bloody time: is cinema finally going with the flow of period sex?
Hollywood has a horror of the twin taboos of intercourse and menstruation. But female writers and directors are starting to change the way women's bodies are portrayed on screen. Read more.
—————————————————————————

You're Early…

By: Maria Ignacia Miranda Santis (WVE's Program & Outreach Manager)
I got my first period when I was 12 after my family and I moved to the United States from Chile.
I wasn't extremely thrilled about what was happening. I was actually really annoyed since it had come a whole year earlier than it was supposed  to, according to my doctor who predicted I would get it when I was 13.  I believe the stress of moving to a new country, learning a new language, making new friends, and eating different foods caused my period to show up a lot earlier than expected.
————–
Do you have a period story to share? By creating dialogues about very real and normal things people go through, such as menstruating, we are effectively dismantling the stigma (de-stigmatizing) of menstruation. Yep – talking abut periods is that powerful! Zap us your stories to be featured on our website, social media, or in our next newsletter. CLICK HERE!
—————————————————————————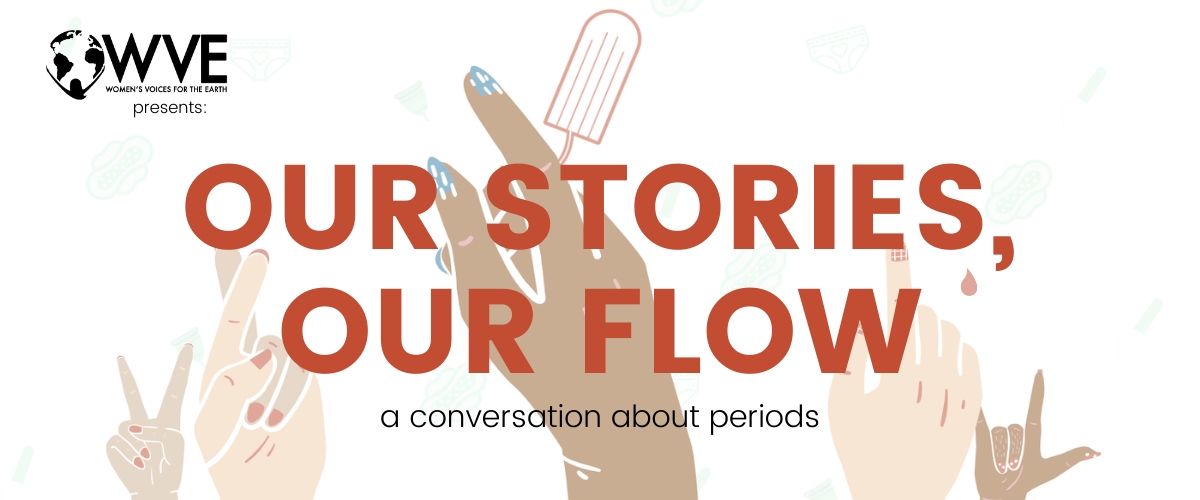 Our Stories, Our Flow workshops are an interactive virtual conversation about menstruation that center and de-stigmatize the way we talk about, understand, and experience (or have experienced) safe and healthy period. You will learn about toxic chemicals in period and intimate care products, ways to avoid them, and share stories and experiences about periods.
We enthusiastically welcome all gender identities, and people from all ages who have experience and/or a relationship with menstruation. We are limiting our workshops to 15 participants to allow for fluid conversations.