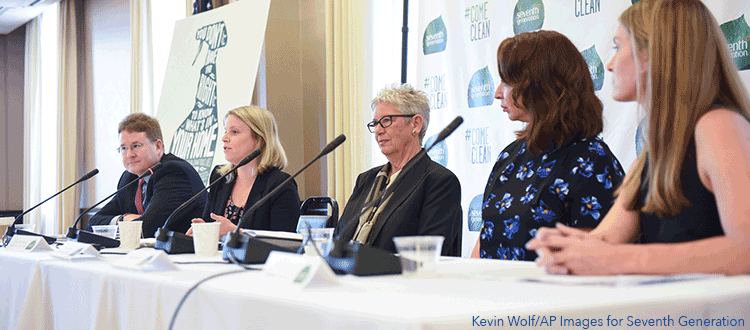 Talking Ingredient Disclosure and Safe Cleaning in DC with SNL Alumni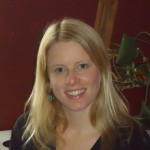 Jamie McConnell
Director of Programs
& Policy
Last week I had the privilege of speaking at a congressional briefing on ingredient disclosure with SNL alums Al Franken (Stuart Smalley turned U.S. Senator) and Maya Rudolph (I have to admit I watched the movie Bridesmaids again right before my trip—love it!), Jeanne Rizzo from the Breast Cancer Fund, and Paul Billings from the American Lung Association. The briefing was hosted by our business partner Seventh Generation. Maya is the company's new spokeswoman (see her hilarious commercials here). She is also a mother of four(!) who lost her own mother to breast cancer. At the briefing she spoke passionately (with some humor thrown in of course) about the importance of knowing what's in cleaning products.
We know that cleaning products can contain chemicals linked to cancer and other health problems, but what we don't know is which cleaning products contain these chemicals because companies do not have to disclose ingredients. That's why we were all in Washington DC—to tell congressional members it is our right to know and ask them to co-sponsor the Cleaning Product Right to Know Act.
Join us and tell your congressional representative it's your right.
Here's the speech I gave at the briefing (oh, and in case you're wondering, Maya was incredibly nice and genuine).
Cancer, birth defects, infertility, asthma and allergies. Cleaning products may contain chemicals linked to health problems, but you wouldn't know it looking at the product label. Companies are not required to disclose what chemicals are used in these products and women are kept in the dark about what we are being exposed to.

This is a women's issue. Women bear the burden of exposure to toxic chemicals in cleaning products. Women are still doing the majority of the housework resulting in higher levels of exposure. Women who clean for a living have higher rates of asthma and a higher chance of having a child with a birth defect. Women have a higher percentage of fat and certain toxic chemicals accumulate in fat tissue. And women can pass exposure on to our babies during pregnancy and even through breast feeding.

Research has shown that chemicals used in cleaning products are ending up in women's bodies and this can impact our health. One study found that the simple use of fragranced laundry detergent during pregnancy led to significantly higher levels of a harmful chemical called tonalide in breast milk. Tonalide is a hormone disrupter and may also breakdown the body's defense against other toxic chemicals. Fragrance chemicals like tonalide are never disclosed in laundry detergent, and pregnant women are not informed that their choice of detergent will affect what they are feeding their babies through nursing. Another study found glycol ethers detected in our bodies immediately after cleaning activities using products containing these chemicals.  Glycol ethers are of particular concern because exposure in pregnant women has been linked to increased risk of birth defects. Essentially women are being contaminated without our consent.

The public, especially women, who make over 80% of buying decisions, want this information. A 2015 survey of moms found that 73% do research to understand the safety of ingredients and in another survey 82% of respondents reported that ingredient transparency is important. In response we are seeing more cleaning product companies disclose ingredients voluntarily, but the way they are disclosing is inconsistent, and this makes it extremely difficult to compare products. That's why it's important to have standardized disclosure—so no matter what brand we are buying, we know where to find the ingredient information.

It's true that some companies are disclosing some ingredients but there is still very little disclosure of ingredients used in fragrance. When you see the word "fragrance" it can represent dozens to hundreds of ingredients. It's what makes your toilet bowl smell like a pine forest. Yet companies will claim that pine forest scent is a trade secret and we don't have the right to know what's in it, even if some of those chemicals are linked to cancer, birth defects, or infertility.

Fragrance allergy affects tens of millions of people—more women are impacted by fragrance allergies than men and the rates in children have risen dramatically. Companies are required to disclose fragrance allergens in the European Union but these same companies do not provide this information to their U.S. customers and we suffer as a result.

Besides a simple list of ingredients still protects trade secrets. We are not asking for the formula or percentages of ingredients or information on the manufacturing process. If you had a simple list of ingredients in the dark chocolate layer cake from Charlie Palmer Steak, but not the recipe or instructions it would be nearly impossible to replicate the cake. And besides, technologies exist that can pin point exactly what is in a competitor's fragrance.

Our right to this information is not a difficult argument to make. Ingredient labels are required for food and cosmetics, and make it easier to avoid ingredients that may cause allergies or are linked to cancer, birth defects and infertility. The Cleaning Product Right to Know Act (H.R. 5025) will require similar labeling for cleaning products. Women's Voices for the Earth and the tens of thousands of our supporters across the country, urge you to support this bill because it is our right to know.

Thank you.
American Lung Association
,
Breast Cancer Fund
,
chemicals disclosure
,
chemicals in cleaning products
,
cleaning product right to know act
,
comeclean
,
fragrance allergies
,
fragrance chemicals
,
fragrance ingredients
,
maya rudolph
,
right to know
,
scented products
,
Senator Al Franken
,
seventh generation
,
toxic chemicals in cleaning products
,
toxic chemicals in fragrance