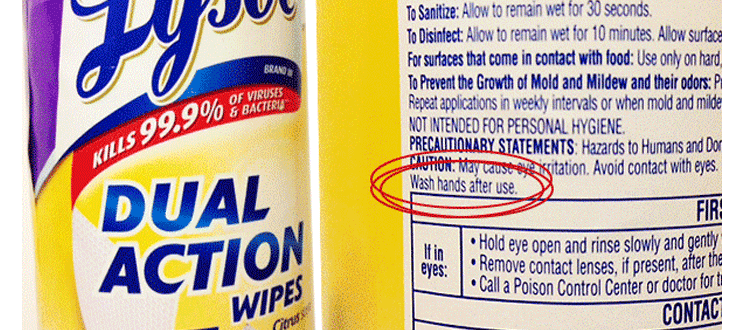 Tip of the Month: Watch Out for Disinfectant Wipes!
UPDATE 6/2021: Questions on disinfectants and COVID-19? Check out WVE's additional resources on safe cleaning and disinfecting during COVID-19.
——————————————————-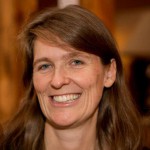 Alex Scranton
Director of Science
& Research
This blog was originally published around back-to-school time, but ALL YEAR is a good time to watch out for disinfectant wipes! For additional resources, sample letters to public spaces/schools, fact sheets, and actions to help eliminate quats from products and public spaces once and for all, CLICK HERE!
It's back to school time – and lots of parents will notice "Canister of Disinfecting Wipes" on their child's school supply list. And it's no surprise. Many teachers and parents alike appreciate the convenience and ease of disinfecting with a wipe. Killing germs was never so easy – and it feels like we are doing a better job of protecting our children from illness … except we probably aren't.
Contrary to popular belief (and loads of marketing!), the data just isn't there. Even the Food and Drug Administration (FDA) admits that there is no evidence that cleaning with disinfectants is any better at preventing illness than cleaning with regular soap and water.i (In fact, the most effective proven method for reducing illness in schools is implementing a regular old handwashing regimen.)
And, many popular disinfectant wipes contain some pretty harsh chemicals that can cause other acute side effects like skin and eye irritation. There's a reason that the fine print on the package frequently recommends that you wash your hands immediately after use! (Kind of lessens the convenience of a wipe when you still have to go to the sink, huh?)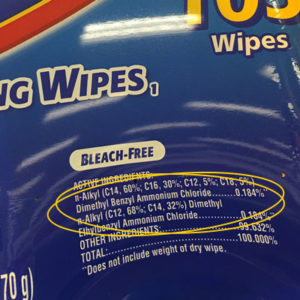 Disinfectant chemicals called quaternary ammonium compounds "quats", commonly found in wipes are especially problematic. These chemicals are skin irritants, can irritate your lungs, and have been linked to asthma and reproductive harm. The overuse of quats can also lead to the promotion of antibacterial-resistant bacteria ("superbugs"), which is bad news for everyone.
Wipe Out Tips:
Avoid disinfectant wipes including quaternary ammonium compounds "quats" — found on the label with names like:

Benzalkonium chloride
Benzethonium chloride
Alkyl dimethyl benzyl ammonium chlorides (C12-16)
Alkyl dimethyl benzyl ammonium chloride (C14 60%, C16 30%, C12 5%, C18 5%)
Alkyl dimethyl ethylbenzyl ammonium chloride (C12-14)
Alkyl dimethyl ethylbenzyl ammonium chlorides (C12-18)
Didecyldimethylammonium chloride
Dioctyldimethylammonium chloride
Go old school and wipe surfaces with a wet microfiber cloth or paper towel, using a simple cleaner if necessary
If you really need the convenience of a wipe, (or are required to purchase wipes for your child's school) try simpler wipes that do not contain disinfectants (like baby wipes) or look for disinfectant wipes using safer alternative chemicals like hydrogen peroxide, citric acid or thymol*
*Reminder: All pre-moistened wipes must include some form of chemical preservative to prevent bacteria growth in the package. Many preservatives used in wipes include parabens, formaldehyde releasers and MI/MCI which have also been associated with adverse health effects.
——————–
ihttp://www.fda.gov/ForConsumers/ConsumerUpdates/ucm378393.htm
Related Articles:
– Four Tips For a Safer Back-to-School
– Three Things to Know About FDA's Recent Ban on Triclosan
– Cleaning with Pesticides? Quit the Quats!
– Cleaning Products and Your Health: An Overview