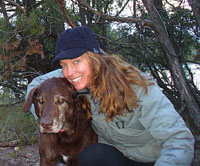 Cassidy Randall Wishes WVE Farewell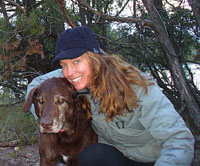 WVE's Cassidy Randall is moving on to new adventures in beautiful New Zealand. Before she goes, she shares a few farewell words, reminding us of her limitless wit, wisdom and contagious dedication that helped guide Women's Voices to where it is today. We're going to miss her around here…
After six years at Women's Voices for the Earth, I'm leaving my position as Director of Outreach and Engagement. And no, if you're wondering, it's not another professional opportunity that lured me away—I'm headed to New Zealand to backpack and ski for several months, and take time for myself.
No other professional opportunity could have possibly lured me away—because I have had the best job on the planet.
Here's why:
1. The WVE staff and board are, without question, the most amazing women I have ever worked with.
What you should know about the WVE team:
We are small, but we are mighty. We are mighty because we believe we can do big things, and we laugh in the face of anyone who tells us we can't.
Every woman on this team is smart, savvy, strong, compassionate, and incredibly efficient.
We are team players. We love sharing the sandbox, and building big group sandcastles. We love new ideas on how to build them.
We are dreamers. And we like to dream BIG.
We REALLY like chocolate. And wine. In case you're ever wondering how to bribe us. (Not that we take bribes. Unless it's dark chocolate.)
2. The community of women who are part of WVE inspire me every day, from donors and followers, to Actionistas, bloggers, and business startups.
What you should know about WVE members (you likely already know this, because you're part of our community!):
They are fierce. They fight for what they believe in, they fight hard, and they don't give up.
They are so supportive. They welcome and encourage the hard stories about why you're part of this movement, and the happy stories too. They love taking newbies under their wings.
They want to grow. They spread the word like crazy, whether it's an email, a share on social media, a blog, or a house party.
They REALLY like parties, because we all know that an overwhelming issue like toxic chemicals has to be turned into something fun if we're going to keep going. They like celebrating each other. And they like celebrating our wins, because…
Together, we win. A LOT.
Speaking of winning…
3. We are making a difference.
I look back to where we were when I started at WVE 6 years ago, and it's mind-blowing to see how far we've come.
Consider this: 6 years ago, not a single cleaning product company was disclosing ingredients in their products. Now, all companies are listing most ingredients, and SC Johnson just became the first company to announce it would list fragrance ingredients. HUGE.
Or this: The first time we ever sent a letter to Procter & Gamble asking them to remove toxic chemicals from their products years ago, they sent us a coupon for dog food. Seriously. But in 2013, P&G removed a known cancer-causing chemical from their top-selling Tide detergents. MASSIVE.
Or this: Before we launched our campaign to eliminate toxic chemicals from feminine care products, no one was talking about harmful chemicals in pads, tampons, douches, wipes, etc., let alone what they were doing to our health. Now, more than 55,000 people have watched Detox the Box, a spoof music video with women singing about toxic chemicals and dancing around with pad and tampon boxes on their crotches. If that's not progress, I don't know what it.
All in all, it has been a privilege. Thanks to all of you for making Women's Voices for the Earth one of the most effective, fun, and meaningful organizations on the map. I'll still be involved with WVE as part of our Actionista team. Join me here!
Here's to an amazing 2015. Make me proud, powerhouse women!