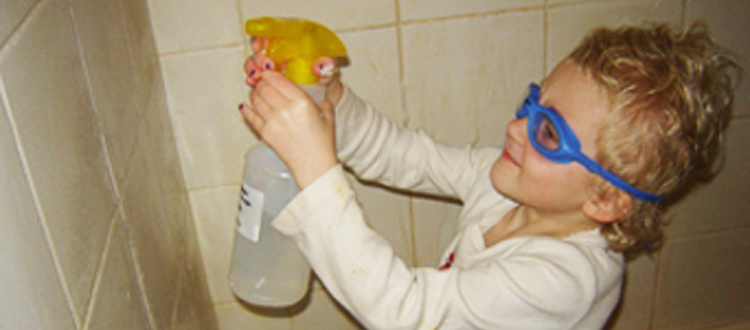 Safe-Cleaning With Your Kids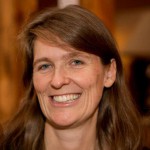 Alex Scranton
Director of Science
& Research
Fun winter activity for kids – scrub the tub?! This is messy fun with clean results!
I hate cleaning tub and tile in the bathroom. I admit, I will put it off for absurdly long, until I just can't stand it anymore. But recently I made a discovery that changed my world. I figured out how to get my kids to do it for me! And no – I don't have perfect, obedient children – they actually wanted to do it.
How did I work this magic? A little thanks to Green Cleaning Recipes from Women's Voices for the Earth.
The tub and tile cleaners you get from the store can contain some pretty harsh chemicals — the kind you might want to wear gloves to use and keep the bathroom window open while you're using them. These are not cleaning products anyone should let their children have access to. But the Creamy Soft Scrub recipe – it's just liquid soap, baking soda and glycerin … And it works like a dream on tub and tile!
Get Those Kids Cleaning
1. Tell your kiddos it's craft time and get them to mix up the Creamy Soft Scrub. (You know you've got it right when it's the consistency of frosting – just don't tell them that or they may want to eat it. While it's generally harmless, it's not going to taste any good!) Tip: Mix it up in a non-breakable bowl or container that can go in your tub.
2. Get them in the tub with some sponges, brushes and your container of soft scrub and let them do their thing all over the walls of the tub (and likely themselves)!
3. For added fun, I also gave them spray bottles filled with All Purpose Cleaner (aka water and vinegar). The beauty of this is that when the foamy soft scrub is all over the tile and it gets sprayed with the vinegar spray – ooh fizzy chemical reaction fun! And that fizzy fun has its own cleaning power to boot! Tip: If you think your kids might just turn this fun time into a water fight, you might want to don them with swim googles too to avoid anyone getting sprayed in the eyes with vinegar water.
4. When they're all done, or have tired themselves out – turn on the shower and spray it all down (kids included)!
Now, I can't tell you that at the end of this adventure, that my tub was clean and spotless.  But it was honestly a major improvement. And there's nothing like a half-done cleaning job to really motivate me to finish it off, which I tackled easily the next morning as I got into the shower.  Pretty painless.
The best part? Hearing my girls say "Mom, can we clean the tub again tomorrow too??"