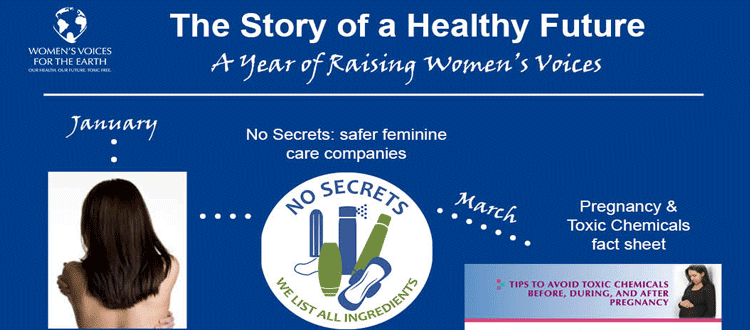 The Story of a Healthy Future
As we close 2014, we want to thank all of our members for what has been an unbelievable year. Thank you for your passion, your energy, and your inspiring feats of non-toxic strength. Thank you for making the Women's Voices community a welcoming, vibrant, effective group of powerhouse women. You are everyday heroines, and we are awed to watch you make history.
Together, our community launched a ground-breaking campaign on toxic chemicals in feminine care products, shattering the taboo against talking about those products in favor of protecting the most sensitive on our bodies. And in true WVE style, we made it FUN (because how else were we going to talk about this?!).
We convinced two of the biggest cleaning product companies in the country to give us more fragrance information than ever before, setting precedents for putting companies across industries on the path to listing ALL fragrance ingredients.
Because we believe that no woman should have to choose between her health and her livelihood, we released a new report and new resources on toxic chemicals in salon products and the havoc they're wreaking on the health of women working in salons. We took salon workers with the report in hand to D.C. to convince lawmakers to protect their health.
And that's only some of what we accomplished together in 2014. Check out the image below for more highlights of what the Women's Voices community has done to make this world a better, healthier place.