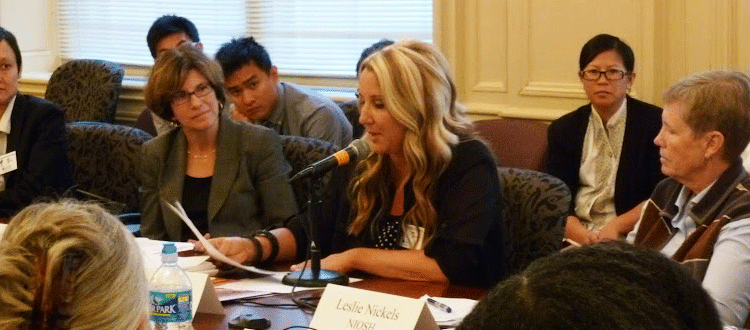 Stylists: The Choice Between Our Careers & Our Health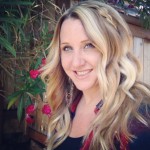 Jennifer Arce
Stylist
WVE Member
It's easy to wake up and go to work each day in the salon industry because you're surrounded by people who are doing what they love. I chose my career as a hairstylist at a very young age; hair is my passion and I've always known it. The beautiful thing about this industry is the relationships we build with our clients (Psst…don't worry your secrets are always safe with us…wink, wink), and there's an indescribable feeling we get when we change the way a person feels about themselves.
Unfortunately, many of us find ourselves making a difficult decision. We're being forced to take a hard look at our lives and question…. Is our love for our career really worth giving up our health?
What's happening to salon workers?
It's been over two and a half years since it was discovered that Brazilian Blowout and other hair smoothing treatments contained high levels of formaldehyde, even though many were labeled "formaldehyde free." So why are these products still being used in salons every day?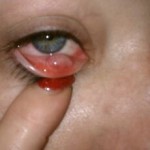 What may have started as burning eyes, sore throats and nosebleeds two and a half years ago have now escalated into chronic sinus infections, debilitating migraines, and respiratory infections that last for months. People who were once perfectly healthy are now sickly, many have permanent eye damage, and asthma that requires multiple inhalers is becoming quite the norm.
Sure, there have been Hazard Alerts from OSHA, warning letters, and multi-million dollar class-action lawsuits. HECK…Brazilian Blowout was even sued by the entire state of California! But no one seems to have the power to get these dangerous products off the market!
Outdated laws
Most of us assume the products we use each day have been tested for safety or approved by the Food and Drug Administration (FDA) before they hit the shelves, but guess what? They're not. Our current cosmetic laws were established in 1938. HELLO….that was 75 years ago! Do you have any idea how many chemicals have been introduced into the market since then?!
Unfortunately, the FDA has such little authority over cosmetics that even if they do determine a product is harmful or unsafe, they DO NOT have the power to issue a recall that will take that product off the market.
So guess who's REALLY in charge of making sure products are safe? The cosmetic industry! They make their OWN rules about the safety of their products!
When an industry regulates itself
To make a bad situation worse, professional salon products aren't required to have ingredient listings. So how do we know if a product we're using on you, our client, is safe? We don't. We're forced to rely on what the companies tell us, and believe me… they don't have the best track record for the truth!
Oh, some companies have gotten really good at using this LACK of regulation to their advantage. Crazy false advertising has become the newest trend!
Companies marketing professional salon products as "safe" have recently been caught:
–        Intentionally omitting hazardous ingredients from Material Safety Data Sheets
–        24 hair smoothing products that claimed they contained little formaldehyde or were "formaldehyde free" were found to contain high levels of formaldehyde
–        Nail products were found to contain hazardous chemicals despite their labels claiming otherwise
–        Stylists are being tricked into believing Keratin Complex is "OSHA approved" when OSHA does not even approve products
Obviously allowing the cosmetic industry to police itself is the classic case of the fox guarding the henhouse.
Is this EVER a good idea?!
Innocent victims
What's most disturbing is that innocent clients are breathing in formaldehyde and are completely unaware. When hair straightening formulas are heated, formaldehyde may be  released as a gas so EVERYONE in the salon is exposed. This includes clients who have cancer, clients who are pregnant, and even children who are in the salon.
And salon workers like myself who are getting sick from exposure and want NOTHING to do with formaldehyde are forced to breathe this in day in and day out!
Prepared to fight
I'm not going to just sit back and let some silly little multi-BILLION-dollar cosmetic industry take away my career. I'm going to fight like hell – and if I'm going down, I'm going down swinging!
I started by collecting letters from sick salon workers all over the country, determined to send them to ANYONE who would listen! (That's how I met the lovely folks at WVE.)
These letters are from stylists, manicurists and receptionists, and even estheticians in their own facial rooms unable to escape illness because formaldehyde fumes creep under their doors. Our stories and symptoms are eerily the same. In addition to the health issues, our careers and livelihood are being threatened.
Many of us have had to quit our jobs to try and avoid formaldehyde while others have been bullied or threatened to be fired for speaking up about being sick. Because these treatments are so profitable, it's hard to find a salon that doesn't do them in some form. And thanks to false advertising, many still believe the product they use is safe or formaldehyde free.
Eventually I met Dawn Marino and Natalija Josimov, two of the stylists who wrote me letters, when the Healthy Nail and Beauty Salon Alliance sent us to D.C. last year for the National Salon Week of Action.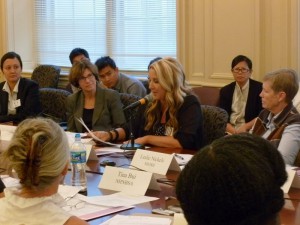 I spoke on behalf of sick salon workers at an Interagency Meeting that included the EPA, OSHA, NIOSH, DOL, former White House Cabinet Secretary Chris Lu and Dr. Linda Katz from the FDA. Each agency is now FULLY AWARE of the severity of this situation and received copies of all the letters.
But in order to really get anything changed, it was imperative that we meet with lawmakers because only they have the authority to create much needed laws! We met with representatives, shared our stories, and urged them to take action.
Meeting others on the same crusade gives you a sense of empowerment. Together we can make changes happen! Changes like these:
Natalija's passion to get formaldehyde out of hair treatments prompted a petition on Change.org.
Dawn and I created Prettytoxic.org to spread awareness and untangle the confusion within the beauty industry. We expose the companies whose products are harmful to our industry and those that engage in false advertising. And occasionally we have a little fun here and there… because hey, sometimes a girl's gotta laugh to keep from crying! And believe me, there have been tears. A lot of tears.
Giving the beauty industry a makeover
Our heroes Rep. Jan Schakowsky and Rep. Ed Markey have come to save the day by introducing the Safe Cosmetics & Personal Care Products Act. This legislation is EXACTLY what's needed to protect families AND the salon industry. If passed, all ingredients will be fully disclosed allowing us to make decisions as informed consumers. Salons would be safer because harmful ingredients like formaldehyde would be phased out and the FDA would finally have the authority to recall dangerous products and take them off the market.
No one should ever have to choose between their health and their career and we want YOU to be safe when you visit a salon! So let's stick together and spread the word.
Together we CAN and we MUST get this bill passed!
We want to SAFELY do what we do best…make the world a more beautiful place one client at a time!