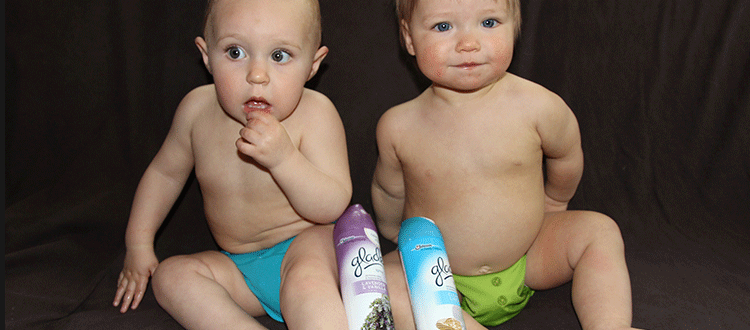 Non-Toxic Avenger Babies Take On Glade's Stinky Secrets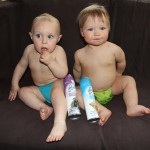 Non-Toxic Avenger Babies
*with a little help from WVE's
Director of Development
Sara Close
Maggie here, with my best friend, Emma. We're the Non-Toxic Avenger Babies, reporting for duty to make a stink about SC Johnson's stinky secrets.
It's been two weeks already, and every day we've seen our photos being shared left and right on our mommies' Facebook feeds – nearly 3,000 shares! The cat's out of the bag: "Something Stinks" about SC Johnson's air freshener, Glade.
Because you've been involved in WVE campaigns for a while (and if this is your first campaign with us – buckle your car seats!), you know we're just heating up. And SC Johnson knows it, too.
But hold up for just a second! In order to get this campaign full speed ahead, would you donate $5 to help amplify our Glade campaign through social media?
Your donation is really needed to set some things straight over at the SC Johnson headquarters. If you've seen this commercial, you've heard the tune:
"SC Johnson isn't just a company – it's a family that cares about yours. That's why we're working to share all of our ingredients, right down to the fragrances and dyes […] so you know what you're bringing in to your home."
So, you'd think listing all fragrance ingredients would be a piece of cake, right?
Wrong. SC Johnson's only response has been: "Consumers have a choice whether or not to buy products that contain fragrance." Translation: "Don't like it? Tough."
(I'm sorry… What was that part about being a family that cares about mine?)
It's time to move this campaign up a notch. Last week, we launched a caption contest with our newest image to answer the question: "What would Baby Maggie say to Glade about the fact that they won't tell her what's in fragrance?" With these new (and funny!) images, we want to reach a total of 10,000 image shares and 2 million impressions to show SC Johnson we're not backing down.
Help us out by pitching in: just $5 – or more – helps us invest in communications and technology to move this campaign far and wide.
We have a right to know what's in the products we're bringing into our homes, spraying in the air that we breathe, landing on the surfaces that we touch, and settling into the dust at our feet.