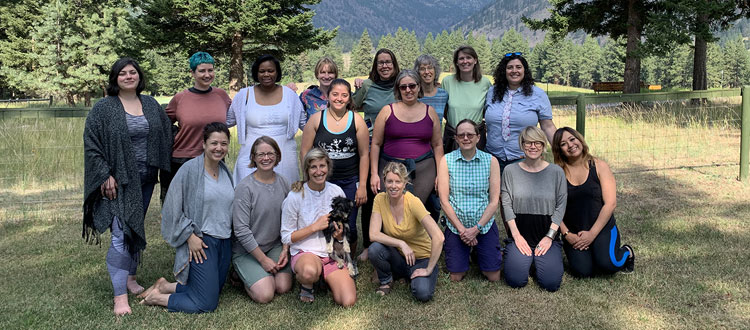 Who is WVE? A Quick Look at 2020 Survey Results
In December, Women's Voices for the Earth (WVE) put out a survey to help us understand who our members are and how they are engaging with us, whether our mission and core values are resonating and our work meeting expectations and needs, and how we might expand on our work to better serve our communities. 278 people participated — if you were one of them, thank you! While these results capture a just a snapshot of WVE's members, we value any opportunity to learn more about you and the powerful network of advocates across the nation. Here are 6 key things we learned from this survey:
1. 74% of respondents were white, 79% cisgender women, and 71% over the age of 45. 
We appreciate everyone who is working with us to help protect our homes and planet from toxic chemicals, and who are joining in our commitment to making the environmental health space more diverse, inclusive and amplify the perspectives of the people who are disproportionately impacted by toxic exposure – low-income communities, workers, and Black, Indigenous and people of color. WVE continues to work to reach, engage, support and employ people from these communities, as well as LGBTQ and young people. 23% of survey respondents identified as low-income, and 22% as BIPOC. Our latest staff/board survey determined that our team is more diverse than ever — more than 40% BIPOC. We are also now offering paid internships and fellowships to young people to help inspire and resource the next generation of environmental health leaders. Representation matters – it is essential to ensuring that needs and voices are not being neglected or ignored, and that people are actively involved in decisions that are being made about their health, rights and safety. 
2. Almost 70% of respondents were concerned about encountering toxic chemicals at work, primarily from cleaning products and air fresheners.
While just 5% of survey respondents said they were a cleaning or salon worker, a majority were concerned about their exposure to toxic chemicals in public spaces, most notably their place of work. Cleaning products like sprays, wipes and air fresheners, and more recently foggers and misters, might kill bacteria and viruses on surfaces, but they greatly increase toxic exposure, and studies show that they aren't the most effective way to stay safe from illness (hand-washing and social distancing are key). WVE is increasingly working to address toxics in public spaces, such as through our People Against Quats group, which supports members who are taking action locally by approaching workplaces, schools, gyms and other institutions about their use of harmful chemicals.
3. The primary way that people engage with WVE is through taking action to move companies and pass laws, attending events/webinars and sharing our resources with their communities. 
We also learned that many WVE supporters prefer to communicate with us through e-mail and newsletter, and that they most often find us for the first time through our website and social media. To stay up to date on new resources, events and ways to take action, sign up for our newsletter, text VOICES to 52886 to receive SMS updates, and be sure to follow us on Facebook, Instagram and/or Twitter!
4. WVE's membership is strongly on board with its mission, core values, and commitment to Diversity, Equity and Inclusion. 
No surprise here – all of the respondents support the mission of WVE to amplify women's voices to eliminate the toxic chemicals that harm our health and communities. An overwhelming majority also stand by our core values of people matter, meaningful change, visionary leadership and equity and power sharing. Members are also supportive of WVE's shift to working at the intersections of environmental health. This looks like: highlighting economic, racial and gender inequities related to toxic exposure, training our staff and board on racial equity, auditing our policies and campaigns to see where we can make them more inclusive, and partnering with and uplifting groups representing diverse constituencies. 
5. Members would like to see WVE doing more on climate change and addressing pollution from the sourcing and disposal of products, including plastic packaging.
WVE's campaigns have historically heavily focused on the health impacts on people who use (cleaning/personal care) products. The environmental implications of product use are striking, and that's why climate change and pollution are key areas where WVE is gearing up to expand and deepen its programs. This will mean, for example, highlighting the environmental impacts of persistent fragrance chemicals like Galaxolide (which has been found in the Great Lakes endangering plant and aquatic life), impacts of ingredients made from petrochemicals (oil), the health impacts on communities where products are manufactured,and the widespread use of disposable plastics like those in period, beauty and cleaning products. We endeavor to make these connections more in the future and are glad to hear that our community is with us.
6. Less than 20% of survey respondents said they had invested financially in WVE's work. 
We are powered by foundations and companies that believe in our mission, and by our members! Consider making a gift today – for the price of a jug of laundry detergent or a box of tampons, you can help make sure that products like these are safe and healthy for people and planet.