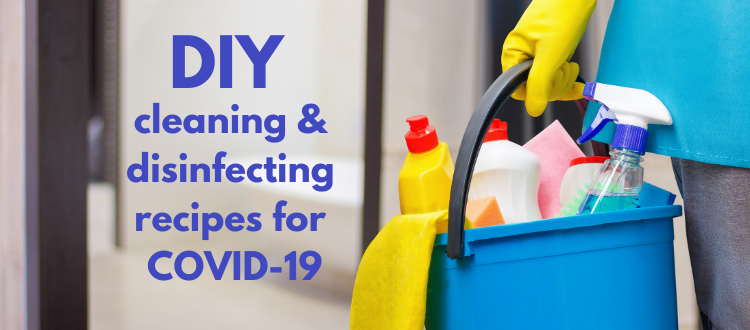 "Do It Yourself" (DIY) Cleaning and Disinfecting during the Coronavirus Pandemic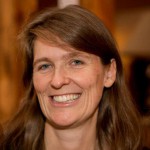 Alex Scranton
Director of Science
and Research
There is a lot of recent attention on and interest in the importance of cleaning and disinfecting during the Coronavirus pandemic. As a result, store shelves have quickly emptied of numerous cleaning and disinfecting products. People are looking for alternatives to keep their homes clean and free of harmful chemicals that can often be found in disinfectants. So, folks are asking – are there ways to make safe and effective products at home?
The good news is – YES – there are some great options for making safe and effective cleaners and disinfectants at home. But first – it is important to remember the basics about staying safe during the pandemic.
Prioritize the most effective strategies for reducing the spread of the virus.
Getting the vaccine, washing your hands, wearing a mask, and practicing social distancing are the very best tools for keeping the virus out of your home and stay safe. Using alcohol-based hand sanitizer is also a good option on the go if you can't get to a sink – but remember to wash your hands thoroughly as soon as you can.
Keep your surroundings generally clean
Cleaning and general hygiene are great for your health. Soap and water are amazingly effective at removing both dirt and germs from surfaces. There are no studies that have shown that using disinfectants on surfaces at home results in any lower rates of illness than from simply cleaning a home with soap and water.
If you choose to disinfect in your home in addition to cleaning, choose (or make!) safer disinfectants where possible
Avoid disinfectants that contain chlorine bleach (sodium hypochlorite) and quats (ingredients ending in "…onium chloride") which are linked to adverse health effects. Look instead for fragrance-free, dye-free, disinfectants with active ingredients such as:
alcohol/ethanol
hydrogen peroxide
lactic acid
citric acid and
thymol
Products containing all of these active ingredients have been approved by the EPA as likely to be effective against COVID-19.[1] But they may be harder to find in many stores – and are likely especially much more difficult to find these days. Here are some DIY recipes you can use instead with ingredients that may be more easy to find (or which you may already have in your home.)
DIY alcohol-based Hand Sanitizer:
2 parts isopropyl alcohol or ethanol (at least 70%)
1 part aloe vera gel or vegetable glycerin.
Pour both substances into a small clean bottle with a secure flip top cap (like a sample shampoo bottle or similar) and shake until mixed. Keep the bottle in your car or in your purse for disinfecting your hands on the go when needed. It may not have the same gel-like consistency as store-bought hand sanitizer, (i.e. it may be more watery) but it will be effective.
Important note on hand sanitizer: The CDC currently recommends hand sanitizer that contains at least 60% ethanol or 70% isopropanol. This comes from prior laboratory studies showing that these levels are effective against viruses similar to COVID-19. The good news is that a brand new study has been conducted on COVID-19 itself, using various hand sanitizer recipes and varying levels of dilution. They found that ethanol and isopropanol were fully effective in inactivating the COVID-19 virus in 30 seconds at a concentration as low as 30%.[2] This means that even if you start out with 70% alcohol and dilute it with some aloe vera gel – it will still result in an effective formula.
DIY disinfecting with Hydrogen Peroxide:
(Note: you can also put hydrogen peroxide temporarily in a spray bottle for easier dispersion on a surface – but it best to just use what you need when you need it. Hydrogen is packaged in a dark colored opaque bottle on purpose – because exposure to sunlight will degrade it and make it ineffective).
DIY disinfecting with Isopropyl Alcohol:
Isopropyl alcohol can also be used directly on surfaces Cautions with using alcohol: Remember that isopropyl alcohol is highly flammable – do not use this to disinfect while cooking or near an open flame. Also, alcohol evaporates quickly, so disinfect in a well ventilated space.
Cleaning surfaces with soap and water:
Put 1-2 tsp dish soap (avoid antibacterial soaps and products with fragrance and dyes) in a spray bottle or squirt bottle with water. Spray or squirt on surface and rub with a clean cloth. Rinse with water/wet cloth if needed. (While soap and water is not technically registered as a disinfectant with the EPA, it is a great grease-cutter which can also dismantle the fatty membrane that surrounds the coronavirus to inactivate it.)
Precautions for anytime you use a cleaner or disinfectant for the first time on a surface:
Try using it first on a small less visible area of the surface to ensure it is well tolerated. Some surfaces (like granite, marble, or polished or varnished surfaces) can be altered or marred by some cleaning agents . So try it first on a small area before using it widely.
General precautions: The recipes included above are simple, tested and effective. It is not recommended to mix your own concoctions from different ingredients you have on hand as mixtures of some chemicals can lead to dangerous reactions.
Stay safe and happy cleaning!
—————————–
Related Posts:
—————————–
[1]https://www.epa.gov/pesticide-registration/list-n-disinfectants-use-against-sars-cov-2
[2] Kratzel A, Todt D, V'kovski P, et al. Inactivation of Severe Acute Respiratory Syndrome Coronavirus 2 by WHO-Recommended Hand Rub Formulations and Alcohols [published online ahead of print, 2020 Apr 13]. Emerg Infect Dis. 2020;26(7):10.3201/eid2607.200915. doi:10.3201/eid2607.200915. https://wwwnc.cdc.gov/eid/article/26/7/20-0915_article