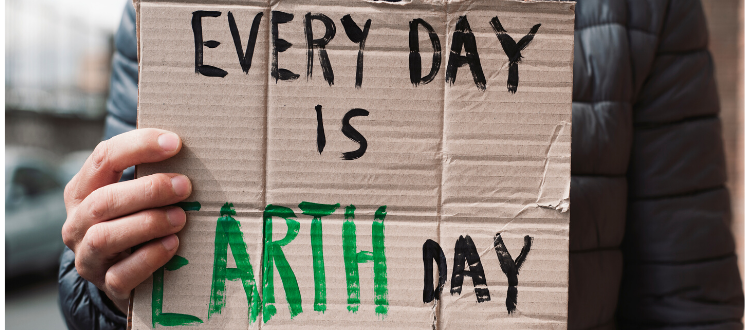 50 Years of Earth Day: A Celebration and an Urgent Reminder
April 22, 2020 marks the 50th anniversary of Earth Day. Sparked by Rachel Carson's Silent Spring in 1962 — this book helped uplift the issue of environmental health into the public mainstream and mobilize countless people across the globe to call for systematic changes in the way we address pollution of our air, water, earth and bodies.
2020 also marks the 25th anniversary of WVE. Launched in 1995 in Missoula, Montana to take on local issues — pesticide spraying, pollution from a nearby container mill, and stopping a proposed gold mine on Montana's Blackfoot River — today, WVE leads tens of thousands of advocates in the U.S. and beyond in campaigns to stop toxic chemicals from being used in products made for our homes and bodies.
Anniversaries like these are something to celebrate. But they are also a reminder that the urgency to protect our health and our environment is as relevant as ever.
Chemical pollution and greenhouse gasses are being released into our environment at a staggering level from the way we produce our food, to how we heat and cool our homes. We also need to be real that what's happening to our climate is connected to what's found in the products under our sinks, in our cabinets, and on our shelves. From household cleaners to shampoo, petrochemicals (oil) are the basis of too many of products we use in our daily routines. This is made that much worse by the huge amount of plastic packaging they all come in.
The way everyday products are created, distributed, used, and disposed is having a dramatic and dangerous impact on our health and environment. People of color, Indigenous people, and low income families who often live in areas where pollution from manufacturing plants is highest are bearing the brunt of the public health crisis.
The COVID-19 pandemic has further amplified the devastating and deadly impacts of environmental injustices on low-income families and communities of color — studies show that not only is air pollution likely promoting the spread of the virus, it is impacting the survival rates of people infected by COVID-19. And now, communities that have long been a dumping ground for pollution are dying from this virus at disproportionally higher rates. This is a tragedy.
But we know change is possible. For the last 25 years WVE has been honored to help bring people come together to make industry shift policies to safer chemical screening processes, develop sustainability guidelines, eliminate toxic chemicals, and reduce packaging and production waste. To demand that our decision-makers support laws to reduce waste and environmental exposures that are polluting our homes and habitats. To fight back against a system that is designed to harm groups of people, or to rank their worth. To think it is okay that people are sick; that people are dying.
There is incredible strength of movements like Earth Day, and in people like you who continue to show up and stand up for your health, and the well-being of your community and planet. THANK YOU for all that you do – there is no doubt there is much more work to do. And there is no doubt we are relentless in making sure that work is done. We know you are, too. That is something to celebrate.
Happy Earth Day.
3 Actions to Take Earth Day 2020
Recently, the EPA announced a temporary policy in response to the COVID-19 Pandemic that essentially absolves polluting industries from meeting environmental standards during the crisis. It's outrageous that the agency charged with "protecting human health and the environment" is giving industries a pass to not comply with regulations intended to protect human health from the very air pollutants that are making people more susceptible to contracting and dying from Covid-19. LEARN MORE & TAKE ACTION NOW to tell the EPA this policy is not protecting our health!