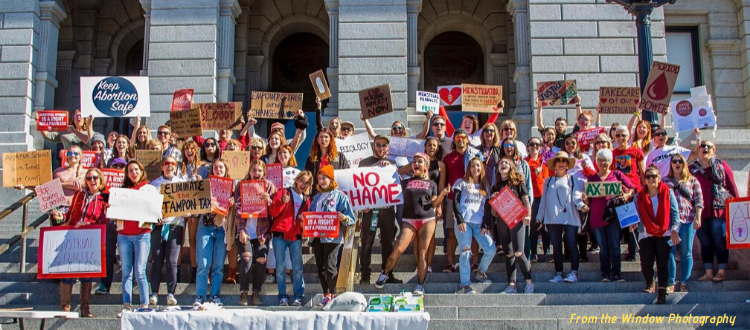 Making Waves on National Period Day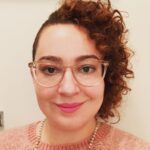 Jess Whetsel
Community Organizer
Saturday, October 19, 2019 will go down in history as the first-ever National Period Day, and what a day it was! WVE was honored to join Jess Whetsel — PERIOD policy chapter leader in Denver, CO — and the amazing group of people who showed up on the steps of Colorado's State Capitol to help put an end to period poverty and ensure period health is a priority! A huge thank you to Jess for this guest post, her leadership and for her all-around general awesomeness! 
Established by PERIOD, a youth-led nonprofit organization based out of Portland, Oregon, National Period Day sought to raise awareness of period health and period poverty in the United States. In Denver, Colorado, over a hundred people gathered at the west steps of the Colorado State Capitol building to rally for menstrual equity. Colorado House Representatives Janet Buckner and Brianna Titone spoke about their commitment to ensuring menstrual equity in our state, along with multiple other speakers representing local nonprofits and schools. Meanwhile, National Period Day was also being celebrated nationwide and beyond, with 60 total rallies happening in all 50 states, as well as Wales, Nepal, Rwanda, and Kenya.
Period poverty refers to the inability to access menstrual products, an experience shared by many people who menstruate worldwide. A joint study by Thinx and PERIOD found that 1 in 5 teens have struggled to afford period products, and 84% of teens have either missed or know someone who has missed school due to period poverty. The first major city-wide study on period poverty in the U.S. found that 46% of low-income women in St. Louis had to choose between meals and period products. And these numbers don't even capture the experiences of trans and non-binary menstruators, demonstrating that we need to keep pushing for their visibility in the fight for equity.
As a result of outdated and gender-biased legislation, thirty-three U.S. states – including Colorado – still tax period products as "luxury items." In 2017, a bill that sought to eliminate the tampon tax in the state of Colorado was introduced into state legislature, only to be postponed indefinitely. Earlier this year, however, Denver City Council unanimously voted to abolish the luxury tax within city limits, and HB19-1224 was passed, providing free menstrual products to people in custody.
The National Period Day rallies raised a massive amount of awareness of this important issue. On October 19, there were 646 pieces of coverage about the #MenstrualMovement, reaching 4.64 billion people worldwide. We're making waves, and we need to keep the momentum going as we approach the next legislative session. Unlike most poverty-related issues, this one is solvable – and this fight is on all of us, whether you menstruate or not!
Here are some ways you can make a tangible difference in the lives of people with periods:
Read and sign PERIOD's Menstrual Movement Manifesto. If you're so inclined, you can donate to support the #MenstrualMovement.
Contact your congresspeople and ask them to write and support bills ensuring period products are safe, and freely accessible in schools and shelters.
Take action to support Congresswoman Meng's federal bill, the Menstrual Products Right to Know Act that will put an end to ingredient secrets in tampons, pads, menstrual cups and period underwear.
Contact your national representatives and ask them to support H.R. 1882, the "Menstrual Equity for All Act" which would enable states to use federal grants to provide students nationwide with period products in schools, require Medicaid to cover the cost of period products, and let individuals use their own pre-tax dollars from flexible spending accounts to purchase menstrual products.
——————————
Jess Whetsel is a community organizer, yoga teacher, social worker, and writer based in Denver, Colorado. She was the lead organizer of Colorado's #NationalPeriodDay Rally, and is currently leading Colorado's #FreeThePeriod campaign to eliminate the state's tampon tax.
Special thank you to From the Window Photography for the beautiful rally photo!