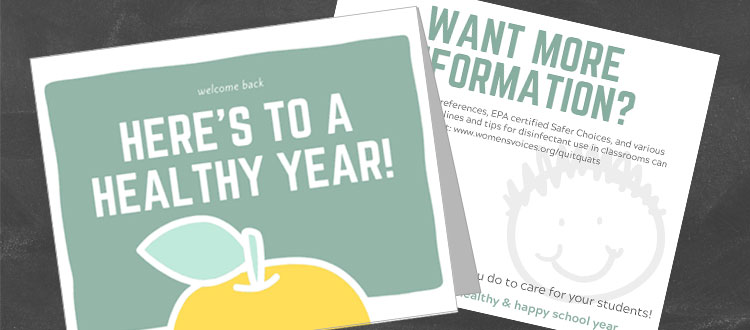 Helping Our Teachers Take on Quats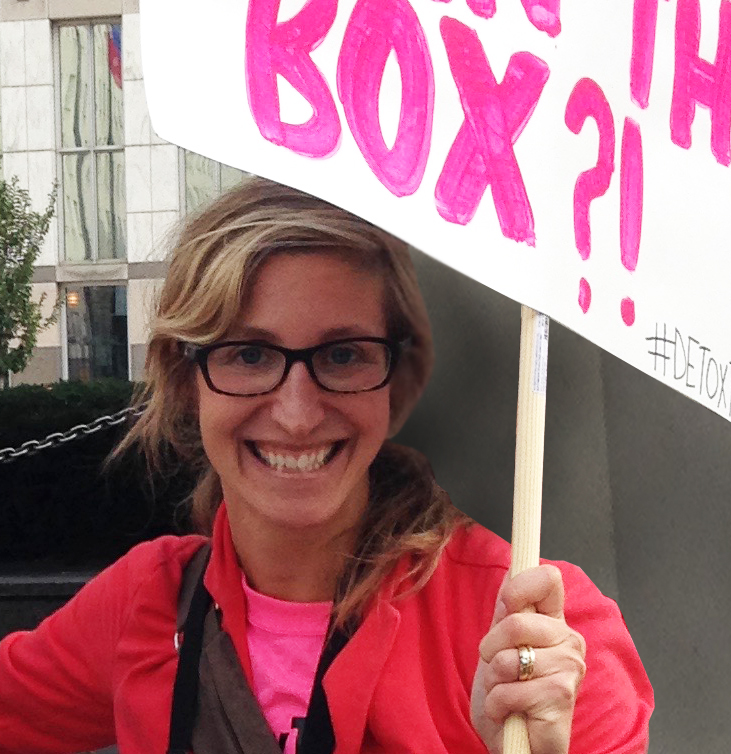 Beth Conway
Communications Director

Back to school time is here! In the same breath, this mother of three says HOORAY and a preemptive THANK YOU to the teachers who are getting ready to welcome my kids and dozens of others into their classrooms for the year.
Teachers bend over backwards for our kids; they care deeply about the well-being and health of their students — from helping them master their ABC's to warding off the flu, and everything in between. Which is why I am not surprised to find "Clorox disinfecting wipes" on my kiddos' school supply list. But while teachers prioritize the health of their students, Clorox wipes do not. These wipes contain quaternary ammonium compounds, or "quats" – and instead of keeping classrooms healthy, Clorox wipes may put our children's health at risk.
Pesticides in Clorox Wipes
Quats are commonly found in products marketed as "antibacterial". Quats are pesticides. They are asthma triggers, allergens, and are linked to other respiratory and reproductive harms. Quats are even suspect in the spread of "super-bugs" that cannot be controlled with antibiotics. Call me crazy, but a product promoted to combat illness should NOT be linked to multiple health problems…
Ditching quats doesn't mean dirtier schools or sicker kids. Not only are there safer products available, but there is currently no evidence that shows using disinfecting wipes, sprays, or antibacterial soaps at home or in the classroom are any more effective at preventing illness than washing with plain soap and water. In fact, the FDA is even currently considering banning some of the most widely used quats, due to a lack of available data to assure the safety and effectiveness of these chemicals.
Another danger of quats is how they are used. The label of Clorox Disinfecting Wipes advises users to wash hands after use, keep out of reach of children, and in some cases, rinse affected surfaces with water after use! And for good reason – Clorox knows that skin exposure to the disinfectants in their wipes just isn't healthy. But when's the last time you washed your hands after using a surface wipe? Kind of eliminates the convenience factor, no? Disinfectant wipes are rarely treated with such precautions – especially in busy classrooms. Which is why they shouldn't be there in the first place.
Is this news to you? Then it's probably news to teachers as well. Let's change that.
Here's To a Healthy Year!
Here is a WELCOME BACK card for your children's teacher you can download and print off — feel free to add your own personal note (there's room on the back). This card contains information on quats. And while you're at it, how about including a gift card? Many of us know that classrooms – especially at this time of the year – are hurting for supplies. Teachers often pay for these extra expenses out of pocket.
Click here to download and print card.
So, let's give a little something back to the women and men who give so much to our kids — while at the same time get the conversation started with our caregivers, educators and/or school administrators on how we can reduce our kids' exposure to toxic quats.
After all, knowledge is power. Guess who taught me that. 😉
————————-
Want to do more? Consider joining our People Against Quats action group. Learn more, click here!
For additional resources, sample letters to public spaces/schools, fact sheets, and actions to help eliminate quats from products and public spaces once and for all, CLICK HERE!