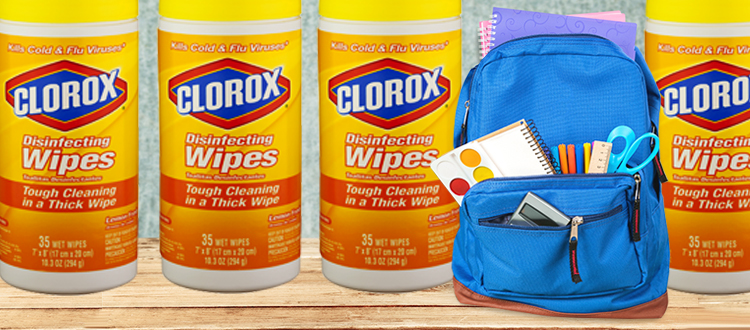 Quats and Back-To-School: What You Need to Know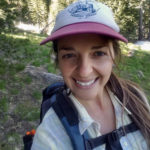 Jane McGuire
WVE Intern
For additional resources, sample letters to public spaces/schools, fact sheets, and actions to help eliminate quats from products and public spaces once and for all, CLICK HERE!
August is here, and for many parents, this means prepping for back-to-school. And if you're concerned about grimy fingers and germ-laden desks, then it's likely that disinfecting wipes are on your back-to-school shopping list. Although disinfecting wipes are a staple of many households and classrooms, you might be surprised to learn that there is currently no evidence showing that over-the-counter antibacterial products are any more effective at preventing illness than washing with plain soap and water. In fact, certain chemicals in disinfecting wipes – known as quaternary ammonium compounds, or "quats" for short – have been shown to cause negative health effects. Quat the heck?
That's right, quats are lung irritants, skin irritants, and have been linked to reproductive harm. What's more: children are at greater risk to the negative effects of quats than adults. That's because, in order for their bodies to grow and develop, children need to eat, drink, and breathe more per pound of body weight than adults. Children are also less aware of hazards and how to avoid them, and are expected to follow directions at school – which means they may not be able to say "no" to the use of hazardous products in their classroom.
Another danger of quats is how they are used. Although the label of Clorox Disinfecting Wipes advises users to wash hands after use, keep out of reach of children, and in some cases, rinse affected surfaces with water after use, these products are rarely treated with such precautions. For example, we came across a school district in New York that cleans its classrooms with a powerful electric sprayer that shoots a mist of quat-containing disinfectant chemicals all over the walls, computers, seats, and desks! These measures are taken with the intention of reducing cases of the cold and flu, but in reality there is no evidence that this procedure has reduced disease. Instead, it may place students and teachers at risk of developing negative health effects far more severe than the common cold.
There are many other, much safer ways to keep kids healthy at school. Here at Women's Voices for the Earth, we think it's ridiculous that a product claiming to keep your family safe may actually trigger asthma, cause skin rashes, and compromise fertility. These are just a few of the reasons why we are urging Clorox to #quitquats. This back-to-school season, we invite you to join us. Here are some ways you can reduce your child(ren)'s exposure to quats and spread the message that quats have no place in schools!
"Antibacterial" is not always better
Be sure to steer clear, and urge your kid's school to steer clear, of wipes containing quaternary ammonia compounds — good ol' lung and skin irritating, endocrine disrupting quats. Typically, if a wipe is advertised as "antibacterial," it's a good bet that quats are in there. Your safest option is to put the product back on the shelf if the ingredients label lists any of these ingredients:
Benzalkonium chloride
Benzethonium chloride
Alkyl dimethyl benzyl ammonium chlorides (C12-16)
Alkyl dimethyl benzyl ammonium chloride (C14 60%, C16 30%, C12 5%, C18 5%)
Alkyl dimethyl ethylbenzyl ammonium chloride (C12-14)
Alkyl dimethyl ethylbenzyl ammonium chlorides (C12-18)
Didecyldimethylammonium chloride
Dioctyldimethylammonium chloride
Or, you can ditch the wipes altogether and replace them with soap and water, natural all-purpose cleaner, or make your own cleaning products by whipping up a batch of one (or all!) of our favorite green cleaning recipes!
Spread the Word
When Janna Said learned about the harmful chemicals in the wipes being used at her kid's school, she gave a presentation about the dangers of wipes to the school principal, school nurse, and the PTO. With some hard work and collaboration, Janna's presentation ultimately led to her child's school adopting a Safer Wipes Initiative. You can view and download her presentation here and don't forget to read Janna's inspirational story!
It's clear from Janna's experience that your fellow parents are an amazing asset and resource in the fight against quats in schools. Be sure they aren't left in the dark – download and share our fact sheet today!
Healthy habits go a long way!
So much more goes into boosting immunity and promoting good health than wiping down surfaces with potent disinfectants. This back-to-school season, incorporating some of the following habits into your daily routine can help keep everyone healthy and strong, without harmful chemicals! Such as:
Make sure your kid(s) have the golden rule of cold prevention down pat: when you cough or sneeze, cover your mouth and wash your hands with soap and warm water. In fact, hand washing is something we can probably all do a little more of!
There's nothing quite like a healthy diet, adequate sleep, and regular exercise to keep the body strong. Embracing healthy lifestyle habits, and helping your kids do the same, is the single best thing you can do to make sure your family's immune system is in tip-top shape.
Join action group, PAQ!
People Against Quats (PAQ) is a national action group of concerned people who want to take action to eliminate or reduce public exposure to quats in places like schools, childcare facilities, gyms, apartment buildings, public work places and more. Many PAQ are parents from around the country who are working locally to make change in schools and childcare facilities.
And lastly…
Share this blog with your fellow parents, teachers, and friends!
——————–

For more information check out: