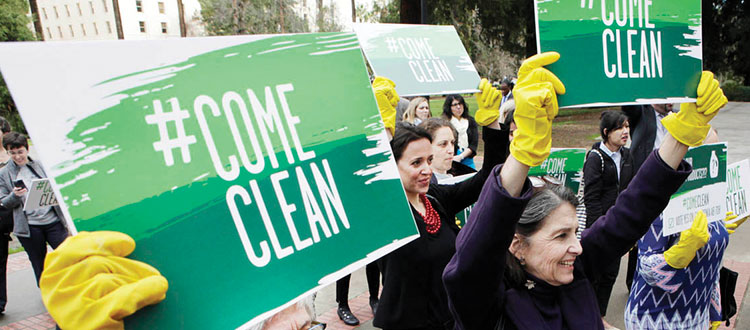 Spring Clean the Cleaning Industry!
Spring has sprung and we have spring cleaning on the brain. We're thinking about the fact that many conventional product brands contain ingredients that are bad for our health, and bad for the planet—chemicals that are linked to asthma, hormone disruption and even cancer. These harsh chemicals wash down the drain to contaminate waterways, and disperse into the air, contributing to urban air pollution.
The good news is that people like you are taking action—tens of thousands across the country are standing up to toxic threats to women's health and the environment. And we are so grateful to be on your team!
Here's the kind of victories you helped make possible the last year alone:
SC Johnson stopped using Galaxolide—a harmful fragrance ingredient that is linked to health problems for people and animals, and has been detected in the Great Lakes.
Procter & Gamble moved to reveal all ingredients, company-wide, including those in fragrance for the very first time. Disclosure is a critical step toward safer products.
A new law in California passed requiring cleaning product manufacturers to disclose the ingredients in the products they sell in the state.
These triumphs add up to a lot of good for your health and the health of our planet. But there's more work to do, and we need you by our side.
Monthly donors are allies who support our work year-round, giving us the reliable funding we need to release innovative research, influence corporations and do our part to solve the environmental health challenges of our time.
The average American family spends more than $500 per year on cleaning products. That's a lot! Your pledge to WVE is a cleaner investment—one that helps ensure that products are safe and healthy for people and the planet. Whether it's $5, $10, $20 per month—it makes a difference.
Women's Voices for the Earth has been taking on toxic chemicals in cleaning products for over a decade. And with your help, we can continue this journey down disclosure road and to safer products. Along with your donation, we'll ensure to keep you up to date with research, events, and victories happening at WVE.
Thank you for standing with us!
Now, for a good scrub-a-dub-dub….