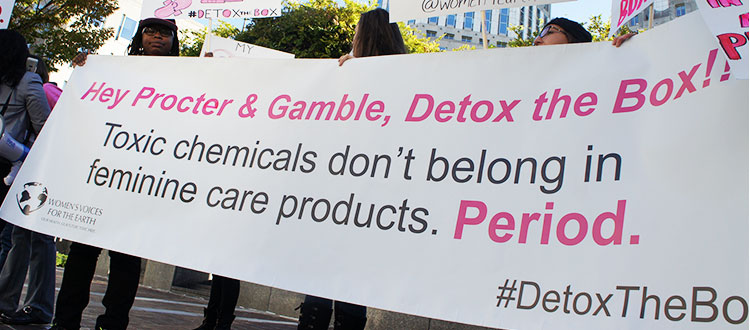 On the One Year Anniversary of a Feminist Victory
One year ago, women turned a corner. That corner happened to be in southern Ohio. But across the country—and indeed around the world—women demanded their right to full ingredient disclosure in feminine care products. Our goal was ambitious, as all the best goals are. To get Procter and Gamble, the world's largest consumer products corporation, to label ingredients in Tampax tampons and Always pads and to eliminate harmful ingredients.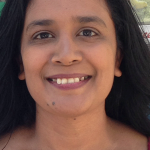 Sarada Tangirala
National Campaigns Manager
On October 13, 2015 our women's rally brought to downtown Cincinnati bright colors and banners, powerful song and joyful dance, and calls for transparency and safety backed by the latest scientific information. We had one clear call to action: Detox the Box.
Because of all of us, for the first time a major feminine care manufacturer began voluntarily listing some ingredients. Procter & Gamble released two websites offering limited product ingredient information for Always and Tampax to consumers. And shortly afterward Kimberly Clark, the makers of Kotex, also started revealing ingredient information for Kotex.
A Feminist Victory
To fully understand the importance of this victory, we have to remember a few things about how this is a feminist issue. Women's health is uniquely impacted by the chemicals in feminine care products, and pads and tampons come in contact with one of the most sensitive parts of our bodies. Chemicals linked to cancer, hormone disruption, allergic reactions and a host of other serious health problems are allowed to be used in feminine care products with little to no regulation and no legal requirement for disclosure. Instead, companies insist that they are ensuring the safety of their products, without offering the transparency we need to hold them accountable to that safety. Companies tell women we should trust them.
Make no mistake. What this amounts to is women being told that we don't have a right to know what we are being exposed to from products that are necessities. That we don't have the right to protect our health and the health of our loved ones. That we don't have the intelligence to understand and use ingredient information.
Tens of thousands of women raised their voices, and companies responded by taking the first steps toward ingredient labeling. Today, we are closer to taking for granted that feminine care companies have an obligation to provide 100% ingredient transparency, including fragrance ingredients that impact our health. We are closer to a reality that, with this transparency, women can hold companies accountable for eliminating the toxic chemicals in their products. We are closer to a world in which all pads and tampons are made with ingredients that are inherently safe.
Our Work Continues
The victory we celebrate now is an important milestone on the way to safe feminine care for all. Our dialogues with the two largest companies, P&G and Kimberly Clark, emphasize how ingredient disclosure must be expanded, chemicals of serious concern that should be eliminated, and companies need to make public how they determine chemical safety.
P&G met our call for fragrance safety by releasing a list of chemicals they do not allow in fragrance, a do-not-use list of nearly 40 ingredients they had previously allowed in their products. And Kimberly Clark has also made important improvements to their disclosure website by revealing chemicals used in superabsorbent core materials. As we are at the table with two major companies, we will continue to raise our voices calling for safe feminine care products.
We are supporting and promoting Rep. Grace Meng's bill, the Menstrual Products Right to Know Act of 2017 (H.R. 2416) – a Congressional bill requiring ingredient disclosure for feminine care products. We all must get involved to get this bill off the ground, because that is what change looks like. Take action now!
As we feel the barometer of the country shifting in the direction of women's rights and women's power, our mission and our work affirm that women's power can and will create lasting change for our health. We're proud to be celebrating the one-year anniversary of our rally at Procter & Gamble's corporate headquarters, and we're excited that you will continue raising your voices for women's health!