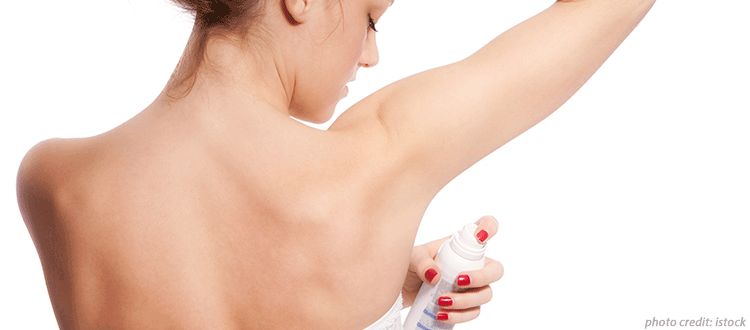 Underarm Harm? What's So Bad About Antiperspirants?
Our skin is our largest organ and can readily absorb much of what we put on it.  When someone asks me, "I'm trying to have a healthier personal care routine, where do I start?" My answer is always to start by using a 'clean' deodorant. Research has shown that many of the substances commonly included in deodorant products are absorbed into the body. An important point to note is that sweating is an essential function of the body, as it eliminates toxins. Sweat comes out of every pore of our body, and is usually odorless. However, underarms are different, as the sweat produced there contains fats and proteins that interact with the bacteria on our skin, resulting in odor. So, it's no wonder that mass marketers have lead us to believe that antiperspirants that stop you from sweating need to be part of your daily personal hygiene routine.
What's so bad about antiperspirants?
Antiperspirants are designed to prevent sweating by blocking our pores, keeping toxins in.  Conventional antiperspirants contain an aluminum compound as their active ingredient, and some studies have shown a link between aluminum and Alzheimer's disease, as well as breast cancer.  Although this research is not conclusive, it does suggest a possible link to health problems—so why take the chance?  Aluminum can accumulate over time in your body if you apply it regularly to your skin (and remember it is not released through your body via sweat). Imagine how many pounds of aluminum stay in the body after using antiperspirant for years! But aluminum isn't the only scary chemical found in antiperspirants.  They often contain these toxics as well:
Parabens: Parabens can be found in every day cosmetic products and personal care products.   Parabens have been linked to disturbing the body's hormonal balance and to mimic estrogen, as estrogen is said to play a part in breast cancer formation.
Silica: Silica is a known skin irritant, it may also be contaminated with crystalline quartz, which is a carcinogen.
Triclosan: The FDA classifies triclosan as a pesticide, while the IARC has it listed as a possible carcinogen.
Propylene Glycol: Propylene glycol is another common ingredient with health hazards. It may cause delayed allergic reactions, and is considered a neurotoxin, which may cause kidney and liver damage.
Why are natural deodorants a safer option?
Sweat is a healthy way for the body to clean itself, and natural deodorants do not prevent sweating.   Deodorants work to kill the odor causing bacteria that live on the surface of the skin and they also help to absorb sweat.  Luckily, there are a plethora of non-toxic skincare products on the market today. Most of them are made with plant-based ingredients and essential oils (which smell great and help mask the smell of sweat).  While you will still sweat since these products don't contain antiperspirant ingredients, some of these natural deodorants can (gasp!) work well to keep you from smelling. To help you choose, we (my colleagues and some of my trusted mom friends) put natural deodorants to the test– a (10k) run, sweating through long days at the park chasing our kids, and outdoor boot camp classes.  These are some of our favorites (we list them in order of preference) and all of these brands fully disclose all of their ingredients:  (Bonus: these deodorants won't leave a white streak on your dark clothes!)
Soapwalla's Deodorant Cream, $14
We were honored to meet the founder of Soapwalla, who gave us a rundown of her high quality, vegan, organic ingredients.  You use your hands to apply the deodorant cream, as it does not roll on, but it is worth the extra effort—trust us!
Fat and The Moon Deodorant Cream, $12
The coconut oil and aluminum FREE baking soda base are a bacteria checking dynamic duo. If you're allergic to coconut oil or have sensitive armpits, this company also has a deodorant without baking soda.
Meow Meow Tweet Deodorant Cream, $14
This deodorant is applied with your fingertips and a little goes a long way. We also love the brand (and the cute name).
Hoppin' Fresh Deodorant by Ursa Major, $18
This deodorant goes on just like a traditional deodorant (AKA no digging your fingers into a pot resulting in an extra hand-washing step).  It also has little to no residue, and comes with a clean, slightly woodsy scent.
Good luck! Be sure to keep in mind that if you are switching from antiperspirant to deodorant it may take a couple of weeks for your body to detox and adjust — so test the deodorant out for at least a week!
—————————
Jessica Munroe is the founder of Supplet – a company that provides moms and moms-to-be with a personalized monthly box filled with premium, organic products tailored to mom's stage in pregnancy (or in parenthood). Jessica has made it her mission to create a business that positively impacts the health of our families. Prior to launching Supplet Jessica worked in the Natural Foods, Healthcare and Venture Lending sectors. Jessica received her Pregnancy and Family Health Coach certification through the Dr. Sears Institute, a BSM degree from Tulane University and an MBA from Boston College.