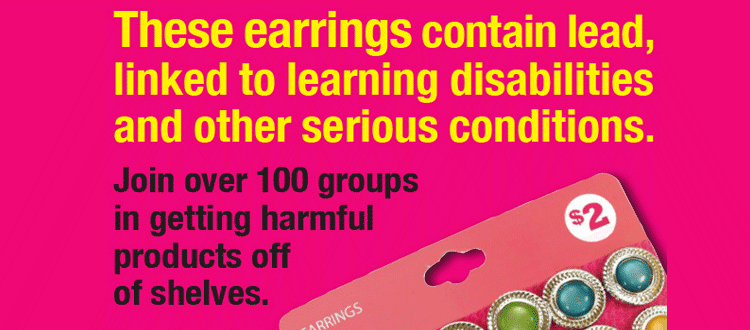 Are Toxins in Dollar Stores Putting Lower-Income Families at Increased Risk?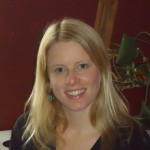 Jamie McConnell
Director of Programs
& Policy
A new campaign aimed at toxic products in dollar stores launched last week and it underscores how exposure to toxic chemicals falls disproportionately on the backs of lower-income people. The Campaign for Healthier Solutions, a coalition of 100 organizations across the country (including Women's Voices for the Earth), tested dollar store products (Dollar Tree, Family Dollar, Dollar General, and 99 Cents Only) for toxic chemicals.
What they found is alarming.
Over 80 percent of the products tested contained chemicals linked to birth defects, learning disabilities, early puberty, asthma, and more. For example:
Earrings tested contained lead at 6, 548 ppm (that's way above the legal limit of 100pm for kids)
Plastic pencil pouches contained phthalates (which are banned for use in children's products)
A tablecloth had 1,028 ppm of lead
Silly straws were found to contain phthalates
It's estimated that 40% of dollar store customers depend on government assistance. In many lower-income neighborhoods, access to supermarkets and even a Walmart or Target is limited (hard to believe but there are about 6,000 Walmart and Targets in the US and 24,000 dollar stores!), making dollar stores a convenient place to shop.
Click here to see the full testing results.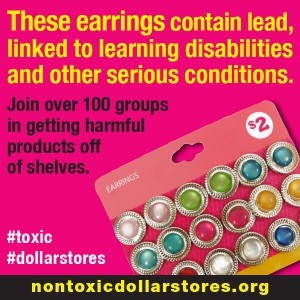 Lower-income shoppers are at higher risk of being exposed to harmful chemicals, and not just because more affordable products (like those found at dollar stores) tend to contain more harmful chemicals than "green" products. The communities they live in are more likely to experience pollution from nearby industrial facilities and traffic corridors. Low-income individuals living in sub-standard housing also face an increased risk of asthma, respiratory infections and lead poisoning.
Higher income folks have more options for avoiding exposure. They can afford to buy "green" products that contain less harmful chemicals. But this approach of shopping your way out of the problem just isn't a reality for many people.
Until we have a federal law that requires all ingredients to be proven safe BEFORE they are allowed in consumer products, there are no real incentives for companies to make safer products. Sure, consumer demand can lead to companies reformulating their product to eliminate the use of BPA, for example. But, as we have learned, without a law in place that truly regulates the safety of chemicals, there is no guarantee that the alternative chemical the manufacturer is using is any safer. And, many of the products that contain BPA, phthalates, etc. are still being sold to people via dollar stores or other discount chains.
Everyone has the right to safe products, regardless of their budget. You have the right to walk into any store, buy a product, and know that it will not contain chemicals that can harm your health or the health of your family. Join WVE and raise your voice for safer products. Because no matter your economic status, you have the right to a safe and healthy environment.
Share Your Thoughts
Do you shop at dollar stores? What are your thoughts on this issue?