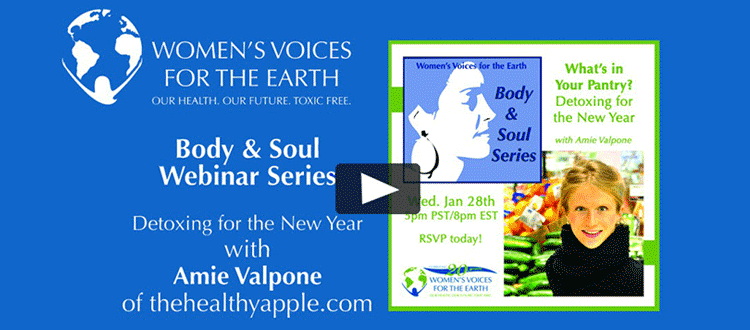 How-To: Detoxing Tips from Amie Valpone
Women's Voices for the Earth hosts the Body & Soul Series for our members with a webinar each season featuring guest experts on different women's health issues. These are great opportunities to get tips for protecting your health from toxic chemicals, learn how to take action, and "meet" and chat with other WVE women.
These interactive webinars are one hour long, both over the phone so that you can talk with the expert and other WVE members, and online so you can see the slides. Oh yeah – did we mention they're free?
Our latest Body & Soul webinar featured the lovely, Amie Valpone. Founder of TheHealthyApple.com, Amie healed herself from Lyme Disease, PCOS, Hypothyroidism, Leaky Gut & Heavy Metals. On her website, she shares her story how clean eating and detoxing saved her life. Amie cooks for a variety of clients including celebrities — curing in the kitchen using organic, anti-inflammatory recipes and meal plans.  Amie shares with us her how-to advice on eliminating toxins from your food and household. Take a look & listen: