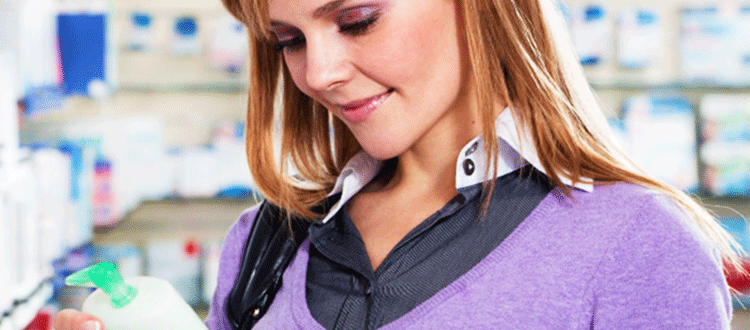 Are Your Personal Care Products Affecting Your Fertility?
Trying to conceive after many unsuccessful attempts can be a very frustrating, heartbreaking cycle of physical and emotional stress.  Having been through infertility treatments myself, I can certainly attest to that. It is important to take a serious look at not only diet, but also the chemicals that we come in contact with on a daily basis that may be wreaking havoc on our endocrine systems, interfering with the ability to conceive.   Unfortunately, most personal care products are loaded with hazardous industrial chemicals, many of which have been reported to adversely affect fertility.
According to the National Institute of Health/National Institute of Environmental Health Sciences, "research shows that exposure to environmental pollutants may pose the greatest threat to reproductive health. Exposure to lead is associated with reduced fertility in both men and women. Further, a growing body of evidence suggests that exposure to endocrine disruptors, chemicals that appear to disrupt hormonal activity in humans and animals, may contribute to problems with fertility, pregnancy and other aspects of reproduction."
It is very important to be wary of the following ingredients commonly found in personal care products and avoid them where you can, even when NOT trying to get pregnant.
Fragrance (Parfum)
This is a sneaky one…The term "fragrance," or "parfum," is a broad label used to define a host of different ingredients that do not otherwise need to be itemized on the label. Fragrances are found not just in perfumes, but in everything from shampoos to hand sanitizers to air fresheners. Synthetic fragrances often contain Phthalates (pronounced "thalates"). Dibutyl Phthalate and Diethyl Phthalate are inexpensive chemicals used in plastics to make them more flexible, and are also used to make fragrances last longer. They are absorbed through the skin, and in lab experiments have been known to interfere with hormone production, decrease sperm count, and cause developmental defects. The European Union classifies Dibutyl Phthalate as toxic to the reproductive system as it may cause harm to the unborn child and impair fertility. Diethyl Phthalate is also suspected of interfering with hormone function, causing reproductive and developmental problems, and is linked to early puberty in girls. Avoid products that just say "fragrance" on the label and look for products that actually list out fragrance ingredients. Alternatively, choose natural fragrances that are derived from organic, natural sources or look for products that have a certification such as Ecocert, which does not permit the use of synthetic fragrance.
Lead
Lead may be a contaminant in over 650 cosmetic products from foundation to toothpaste. Lead is not only a proven neurotoxin linked to learning, language and behavioral problems, it has also been linked to miscarriage, reduced fertility in men and women, and delays in puberty onset in girls. How do you avoid lead in your personal care products? Avoid the ingredient Lead Acetate. Because lead is a naturally occurring substance found in soil and water, it is extremely difficult for cosmetic manufacturers to completely eliminate traces of it. The Campaign for Safe Cosmetics takes a strong stance on this and is pressing the FDA to set a maximum limit of lead in lipstick, based on the lowest lead levels manufacturers can feasibly achieve.   In the meantime, contact your lipstick manufacturer and question the results of their lead test.
BHA/BHT
Used as a preservative and is a suspected endocrine disruptor.
BORIC ACID/SODIUM BORATE
Found in face creams and diaper creams and is an endocrine disruptor.
PARABENS
Methylparaben, Ethylparaben and Propylparaben. Used as preservatives, these mimic estrogen and are linked to breast cancer and reproductive issues in men.
SILOXANES
Used in products to condition the hair and skin, these are suspected endocrine disruptors and toxic to the reproductive system. Siloxanes are listed on labels as polydimethylsiloxane, methicone and dimethicone.
SUNSCREEN INGREDIENTS
According to the Breast Cancer Fund, research has found that many of the chemicals found in sunscreens disrupt the endocrine system and can play a significant role in breast cancer development. Oxybenzone is linked to hormone disruption and low birthweight in babies. Homosalate, a hormone disrupting UVB blocker, and octyl-methoxycinnamate are estrogenic.
TRICLOSAN
Commonly found in hand soap, toothpaste and other products with "antibacterial" properties. According to The Campaign for Safe Cosmetics, it can cause endocrine disruption and be especially harmful for pregnant and breastfeeding women.
For more information on the toxicity of these and other ingredients, visit the Big Baddies list at The Choosy Chick – thechoosychick.com.
Sources:
The Choosy Chick
The David Suzuki Foundation
EWG Skin Deep
The Campaign for Safe Cosmetics
Breast Cancer Fund
National Institute of Health
http://davidsuzuki.org/issues/health/science/toxics/chemicals-in-your-cosmetics—dibutyl-phthalate/
http://davidsuzuki.org/issues/health/science/toxics/chemicals-in-your-cosmetics—bha-and-bhti/
http://www.ewg.org/skindeep/ingredient/701743/CYCLOTETRASILOXANE/
http://www.breastcancerfund.org/clear-science/radiation-chemicals-and-breast-cancer/sunscreens-uv-filters.html
http://davidsuzuki.org/issues/health/science/toxics/chemicals-in-your-cosmetics—triclosan/