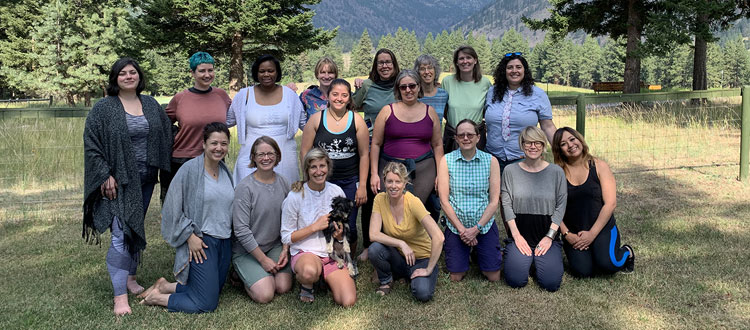 Building On Our Legacy and Expanding Our Vision – Amplifying Womxn's Voices
UPDATE 2021: Our staff has been having open conversations about our intentions regarding using womxn, and what the actual impacts are having on people, particularly trans and non-binary people. And in addition to talking — we've also spent a lot of time listening. Listening to communities, to organizations, to publications, to advocates and to individuals. And what we're learning is that womxn is causing harm in some spaces. We know that intentions and impacts are different things. We know that words matter, because they create and influence actions. As always, WVE will continue to be transparent with you as we grow, learn and strive to ensure our work is building more inclusive, just, equitable and diverse spaces. We invite you to be part of that conversation — please share your thoughtful comments below.
Want to learn more? There are many voices and organizations out there to learn from and who are working to have honest and welcoming conversations about womxn — and about inclusion and respecting lived experiences. I hope you will take the time to read these resources, and learn more about why having these hard conversations — and to understand that flexibility, growth and change —  are so important. Here are a few places and resources to to start:
—————————————–
WVE was founded in 1995 to fill a much-needed role by bringing different voices to the environmental health movement. We recognized a failure to address the health impacts of gender oppression, and a structure that did not fully recognize the systemic connections between health, class, race, ability when it comes to the air we breathe, the water we drink and the conditions of our homes, our workplaces and our communities. Studies on toxic exposure and health were almost entirely limited to white men – ignoring the disproportionate and unique impact that exposure has not only on women and girls' health and fertility, but also on people of color, workers, and the LGBTQ community.
So WVE was created – a new organization run by women and a space where the unique needs of women would be centered; where our voices and expertise were included, respected and leveraged to craft innovative and impactful programs to make real change for women, for our families and for our communities.
Today, we work with tens of thousands of advocates across the country in campaigns to increase corporate accountability and transparency, enact health-protective laws, and take steps to reduce toxic exposure in our everyday environments. We are ready to continue to build on this incredible legacy while also looking at how we can be more responsive and reflective of the values that framed our organization decades ago.
When it comes to fertility and reproductive health, it is critical that we ensure that people who can be harmed are not left out. We are working at how we talk about issues and ensuring our actions and resources are accessible to everyone who has a vested interest, particularly communities whose leadership and point of view is underrepresented. When we discuss the negative health outcomes of personal care or menstrual products, we don't have to use the term feminine or talk about it as only impacting women. There are people who use these items who do not identify as women. We do not want to push people out of this conversation. The experiences of transgender or gender nonconforming people are valid and their needs are critical to our mission of building healthier communities. We hope you will notice that moving forward we will be more mindful in how we talk about who is impacted.
For starters, you will notice WVE incorporating the word "womxn" more often into our work and into our messaging.
This spelling of women is more inclusive, but also grounded in a justice and human rights framework. It welcomes dialogue and makes it clear that while we have the utmost respect for our legacy of being woman centered, we must meet the needs of anyone who is impacted by a system that is designed to control and harm, or to rank or limit their worth. We have to be an organization that considers the way that gender AND gender identity influence our lives and our way of approaching our ongoing efforts and strategies.
We envision and strive to create a world where the earth is taken care of, workers are paid well and treated fairly, and there are no toxic chemicals in our homes, our communities, or our environment. In this world, every point in the cycle of production and consumption – from extraction, to processing, to use, to disposal – contributes not just to a less toxic world, but to a thriving world. We want to make sure that more people not only feel, but truly are welcome to be at this table that we work hard to build.
We know that simply using womxn isn't the end all in building a more equitable movement. But words we use matter and influence actions. So let's act; let's learn and grow and get to work — from a place of love, inclusion and openness.
Here's to the next 25 years.