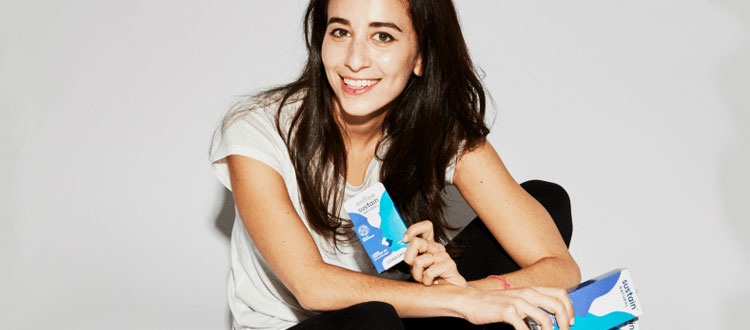 Women-Led: Talking with Meika Hollender of Sustain
Tell us about Sustain and how the company started.
I founded Sustain because like most young women, I always dreamed of starting a vagina-friendly condom company with my dad. No? Just me?
A few years ago when I looked at the sexual and reproductive wellness space I recognized two things: one, there were not enough if any natural options in these categories, and two, tampons, condoms, lubricants etc. had forever been made by men and took little care or consideration into how they impacted women's bodies. Sustain was founded to disrupt this industry by creating all-natural vagina-friendly products, putting women's bodies first.
We started the business with condoms because there was a unique opportunity to not only create a natural product in this category, but also focus on women who buy 40% of condoms and have forever been neglected in the manufacture and marketing of traditional condom brands.
A few years later, after creating organic lubricants, cotton vaginal wipes and Fair Trade Condoms, we launched organic cotton period products, which were always a natural extension of our brand. If we are educating women about what ingredients go in their condoms, lube and vaginal wipes – we are educating them about what's going inside their vaginas. Tampons are no different.
What's unique about Sustain's tampons and pads?
Our vaginas are one of the most absorbent parts of our bodies, so what you put in them matters. Conventional brands use everything from rayon, to fragrances to chlorine bleach. The crazy part? The FDA doesn't even require tampon and pad manufacturers to list their ingredients. Because there have been no studies on the long-term impacts of these chemicals on our bodies, we believe in only putting 100% organic cotton inside your vagina. Our 100% organic tampons and pads are rayon and fragrance-free, non-chlorine bleached and grown without pesticides. Additionally, we created a bioplastic plant-based applicator, because the amount of waste created by using petroleum based applicators (which most brands, even organic cotton brands on the market use) was not an option for us. We're about raising standards and finding the healthiest, safest most sustainable options.
Why is the issue of safe and transparent feminine care important to you?
When starting Sustain, I looked at all the products available to women in this space and saw not only very few if any natural options, but also recognized that from condoms to tampons the FDA does not require manufacturers to list ingredients.  It's unacceptable to me that in 2017, women still don't always have access to this information.
At Sustain we put your body first, which means everything from sourcing fair trade latex for our condoms, to 100% organic cotton for our tampons and pads. We also disclose every single ingredient in all of our products. I'm proud of the work that we do but that's not enough.
As a business leader in this industry, it's my responsibility to lead the charge for change and to be part of this movement demanding full transparency, so that all women everywhere can make informed decisions about what they're putting inside themselves.
What do you love about your job?
My job is being an activist in fighting for women's sexual and reproductive health. That means keeping Planned Parenthood funded. That means lobbying to get the FDA to make tampon manufacturers to disclose their ingredients. That means listening to women (and men) every single day to understand how through my business I can help create a world where women are no longer shamed for being sexual.
If it wasn't clear, I love my job.
What are you feeling excited and positive about today?
Today I'm feeling incredibly grateful and optimistic because in the last few days since launch our organic period line, we've gotten everyone from Teen Vogue to Manrepeller to the New York Times to write about what it is time for women understand what they're putting inside their vaginas.
If you could do one thing right now improve women's lives worldwide, what would it be?
Make sure that every single woman on this planet had the tools they need to decide if and when they have children.
What advice do you have for young women on finding their confidence and leadership?
Don't be scared by controversy, let it fuel your fire to fight for what you believe in!