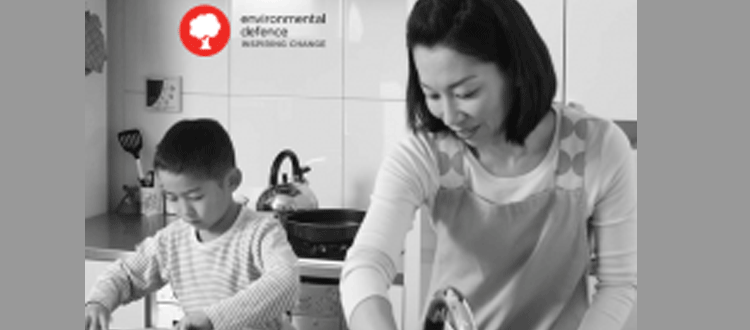 Uncovering the Dirty Truth on Cleaning Products
Maggie MacDonald
ToxicProgram Manager
Environmental Defence
It's great when your home smells fresh, but what's lurking in the scents that linger after you clean? The secret to that smell might be putting your health at risk. A group of chemicals called volatile organic compounds (VOCs) in cleaning products pollute the air inside homes. That's what we found in our new report, The Dirty Truth: How toxic cleaning products are putting Canadians at risk. VOCs are a key contributor to poor indoor air quality. They have been linked to respiratory illnesses, cancer, and lower birth weights and lower IQs in the developing fetus when pregnant mothers are exposed. Scientists have looked at VOCs from cleaning products in controlled laboratory settings. But how cleaning products react with indoor air in homes, and how people use products at home, mean the air will be affected differently than in controlled lab setting.
We wanted to know what happens when real people use real cleaning products at home. It's not every day that we get to play detective outside the office, so we eagerly suited up and with the help of CASSEN Testing Laboratories, we brought air testing kits to the homes of volunteers to investigate. 14 volunteers from the Canadian cities of Toronto, Montreal and Cobalt, cleaned their kitchens for 30 minutes for our experiment. We tested the air in the homes the day before the cleaning, and again during the cleaning, to compare samples. The first-of-its-kind research found that VOC levels went up in all the households with the use of cleaning products, with a stark difference between the conventional and green products:
After the cleaning, the air quality in 12 of the 14 tested households exceeded the German AGOF institute standard for indoor VOC levels (no Canadian standard exists – yet).
For eight households, air quality went from decent to poor during the cleaning.

For the nine homes where conventional cleaners were used, total VOCs increased by an average of 120 per cent.
For the three homes cleaned with certified green products, the increase averaged 35 per cent.
By simply using cleaning products, you could be lowering your indoor air quality and putting your health at risk. That's why we have put together a handy guide that shows you simple steps to reduce your risk from cleaning product VOCs. Consumers have the right to know what chemicals are in the products they buy. It's time for the government to end the guessing game by making full ingredient disclosure mandatory on product labels. Women's Voices for Earth also reviewed companies' performance on product ingredients and labelling and concluded that more transparency is needed. Products should also carry clear warnings about chronic hazards, not just information about immediate risks like skin irritation. It's good to know what to do if a substance gets in your eye, but just as important to know if it's linked to asthma or cancer. While governments and industry need to do their part to make cleaning products safer, and fully disclose ingredients, there are also some things you can do at home in the meantime that will help reduce exposure and improve your indoor air:
-Open windows and turn on fans (if they exhaust outside) while cleaning, and keep ventilation going for at least 30 minutes after cleaning is done
-Keep children out of the room while cleaning. Kids are more vulnerable to chemical exposures than adults
-Look for products that fully disclose ingredients, right down to the fragrances
-You can make your own low VOC cleaners out of vinegar and baking soda and save money in the process: for more details, check out the Environmental Defence guide to cleaning.
We need government and industry to clean up their act so we can breathe easy again in our homes. Consider sharing your concerns with companies and decision makers; recently, big changes have started to happen in terms of ingredient disclosure, no doubt in response to public pressure. To find out more about the Canadian regulatory picture, visit Environmental Defence, and for more information about company performance in the cleaning aisle, read the Women's Voices for Earth Deep Clean report on the industry. Together, we can make a healthier environment, indoors and outdoors.