Target Focuses Bull's-eye on Chemicals in Products: Launches New Standard to Promote Ingredient Safety and Disclosure
Consumer Demand for Safer Personal Care Products Driving Major Changes for Nation's Retailers
Campaign for Safe Cosmetics
For Immediate Release
October 16, 2013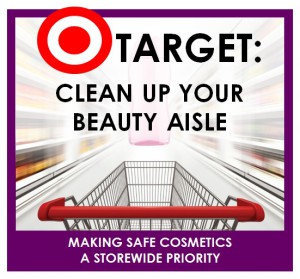 (SAN FRANCISCO) Moved by consumer demand for safer products, the retail giant Target is creating a new sustainability standard that will evaluate and rank baby and adult personal care and cleaning products based on ingredient safety and disclosure and environmental impact. Target has asked the Campaign for Safe Cosmetics to collaborate on developing a standard for cosmetic safety in 2014.
"The Campaign for Safe Cosmetics congratulates Target for taking an important leadership role in cleaning up the beauty aisle," said Janet Nudelman, Director of Program and Policy for the Breast Cancer Fund and co-founder of the Campaign for Safe Cosmetics. "By ranking personal care products based on their impact on environmental health, Target is redefining sustainability for consumers and manufacturers."
Working with Good Guide, Target will rank products based on five criteria, resulting in a score on a 0-100 scale. Ingredient safety and disclosure will make up 70 percent of the overall score. Product ingredients will be cross-referenced against health hazard databases created by scientific authoritative and regulatory bodies. Transparency will be graded on full ingredient disclosure – including the secret ingredients that hide under the generic term "fragrance" – on product labels or manufacturer websites. Ultimately, the ranking will influence which products will be sold in Target's stores.
While Target's commitment to ingredient safety and transparency is significant, there is room for improvement. First, Target should commit to making the product scores public, rather than keeping them private, thus providing consumers with critical information that is nearly impossible to obtain but necessary to make informed purchases. Second, greater clarity is needed regarding when consumers will begin to see changes on Target store shelves. It is not yet clear how high a score a product will have to achieve to receive preferred status under the new system. Overall, more work will have to be done to educate consumers about the new standards and how they will affect the safety of the personal care products available on Target's shelves.
"Target's announcement proves the demand for safe personal care products is being heard and will drive major change in the marketplace by encouraging companies to start being honest about what's in their products. It doesn't take a rocket scientist to predict Target's call for greater transparency will shift consumer-buying patterns because people simply do not want toxic chemicals in the products they use on their bodies," said Nudelman.
Last month, Campaign for Safe Cosmetics supporters around the country submitted comment cards urging Target executives and store managers to clean up the beauty aisle. The Target campaign was a major priority for campaign partner groups including Clean Water Action, Women's Voices for the Earth, and MomsRising. Clean Water Action members met with store managers across New England, delivering hundreds of comment cards and sharing their stories about family members lost to cancer. MomsRising members alone collected nearly 5,000 signatures that were sent to Target headquarters to support a storewide safe cosmetics policy.
"Target acknowledges that consumer demand for safer products led the popular retail chain to tackle the issue of making the personal care products on its shelves safer. Historic shifts by industry giants, like Johnson & Johnson and Procter & Gamble, to eliminate chemicals of concern, and the possibility of greater government regulation of chemicals were other factors leading Target to adopt new standards," said Nudelman.
Target's announcement comes just one month after Walmart asked manufacturers to eliminate as many as ten unsafe toxic chemicals from products sold in its stores; Walmart has not yet released its "red" list of chemicals. Target is taking more of a "carrot" approach by creating a ranking system to help its merchandisers guide their purchasing decisions, rather than asking vendors to stop using specific chemicals in products.
###
Contact:
Margie Kelly, 541-222-9699, mkelly@breastcancerfund.org
Shannon Coughlin, 415-336-2246, scoughlin@breastcancerfund.org
The Campaign for Safe Cosmetics is a national coalition of more than 175 nonprofit organizations working to protect the health of consumers and workers by eliminating dangerous chemicals from cosmetics. Women's Voices for the Earth is a co-founder and on the steering committee of the Campaign.