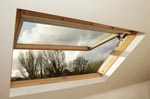 Ditch the Toxic Air Freshener
Although air fresheners have become a staple in many homes and offices, they are known to contain toxic chemicals like phthalates, galaxolide, and tonalide, which contribute to indoor air pollution. Other sources inside your house, from stoves to furniture to cleaning products, can also contribute to toxic indoor air pollution. Indoor air pollution is generally much higher than outdoor air pollution.
So as spring arrives and warmer weather allows, ditch toxic air fresheners and refresh the air indoors naturally. Opening a window is one of the most effective ways to clear the air – even just for a few minutes every day. In addition to that fresher spring feeling in your home, opening windows has some health benefits too: ventilating your home with outdoor air has been shown to reduce symptoms associated with asthma, allergies and infections. So let in that fresh spring air!