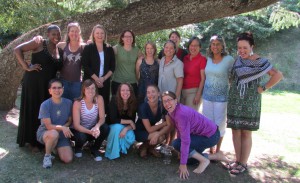 Warm welcome from the WVE women!
Thanks for becoming part of Women's Voices for the Earth! We're excited that you've joined our community of amazing women  (if we do say so ourselves) all over the country.
At WVE, we believe that women have a huge amount of social, political, and economic power to get rid of toxic chemicals that harm our health–and we'll help you amplify your voice to use that power!
We also know that it can be overwhelming to figure out how to avoid toxic chemicals in your everyday life. Think of WVE as your wingwoman on this adventure. We'll help you:
Get involved with Body & Soul webinars, our Green Cleaning Party Kit, Twitter parties, Facebook chats, and more!
Meet other women who share your same concerns
Have fun browsing, and please consider supporting our work by making a donation today.
Please feel free to contact us anytime at womensvoices@womensvoices.org or (406) 543-3747. We look forward to raising our voices together!