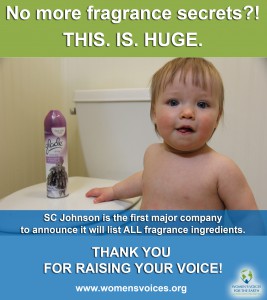 Thank you for letting SC Johnson know that you appreciate their move to list all fragrance ingredients. This is a HUGE announcement that will ripple out to the rest of the cleaning product industry, the personal care products industry, and beyond.
Women have so much economic power to make change, and this is what our power can do.
Can you help us spread the word about this victory? Companies need to know when they're doing the right thing. And SC Johnson just stood up for us—big time.
Together, we can break open the secrecy around toxic fragrance ingredients everywhere, to make fragrance safe for everyone!