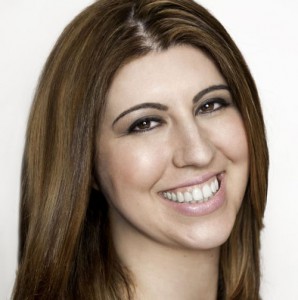 I've been a stylist in New York for two years now, and last year was when my ordeal began.
The first time I ever heard of the Brazilian Blowout I had been working part-time at a salon while I was in cosmetology school. The concept sounded so amazing – reduce your frizz and tame your curls for months after one treatment! The price was exorbitant but as a curly, frizzy haired girl myself, I understood the high demand. I stared at the huge banner advertisement, intrigued, when the apprentice next to me whispered, "They say it causes cancer… stylists had babies with birth defects … I won't do it if they make me."
Months later, at my new salon, I would be doing a Brazilian Blowout on a client, or my coworkers around me would be doing one, and I would get nauseous and dizzy. Other symptoms started to appear, like rashes, a sore throat, and watering eyes. It was hard to breathe.
I went to several doctors and would leave with antibiotics for what we initially thought was a persistent, off the charts sinus infection. It seemed plausible to me, as I have a history of severe sinus infections, but no one had a good answer for my current and constant nausea. It became so severe that I would stuff plastic bags in my purse in case I should need to vomit in public, and had several close calls on the PATH train into work every day.
Finally, I was diagnosed with formaldehyde poisoning. I also developed asthma as a result of inhaling the formaldehyde fumes. My doctor told me that the next time I am around the Brazilian Blowouts it will only make me sicker. "I know this is your apprenticeship and you are working for your future, but this is formaldehyde. You shouldn't be around it anymore," he said.
I broke down in tears. I was so angry, upset, and frustrated – that the Brazilian Blowout company had been lying, that this toxic chemical was in their product, and that I'd been exposed to it without my knowledge or consent.  
Other stylists in my salon were experiencing similar symptoms, but when we talked to the owner, she refused to stop offering Brazilian Blowouts. I quit that salon, but I was so sick that it was at least a month before I could start looking for another job.
As a stylist, it's really difficult to find a salon to work at that does not use these Brazilian and Keratin products. They are so popular that it is hard to find a place that does not use them, so it limits us with where we can work. My salon now doesn't offer Brazilian Blowouts, but sometimes offers keratin treatments – luckily, they only offer those when I'm not around. Despite this, I'm still suffering from health problems even now, and I'm constantly having to miss work because I get so sick. I'm so sensitive to chemicals and I've developed allergies I've never had before.
I'm going to Washington, D.C. this week for the National Healthy Nail and Beauty Salon Alliance Week of Action so that I can create more awareness about this subject. I'm going so that I can hopefully put an end to this. It's been a journey to feel well again, and I'm trying to bring something positive out of something so negative. I'm excited to meet with Representatives to ask them to pass the Safe Cosmetics Act so that toxic chemicals like formaldehyde can't be placed in products.
I want women to know that there is nothing wrong with embracing their natural texture, and that they are other ways to achieve smooth hair without compromising their health. I sincerely hope that my efforts contribute to protecting the health of other consumers and stylists in this industry, so they are not affected by exposure to such a toxic and harmful chemical in the constant quest for perfect hair.
That's why I'm proud to be part of the National Healthy Nail and Beauty Salon Alliance: it's such a positive influence, and I truly see us making a difference.