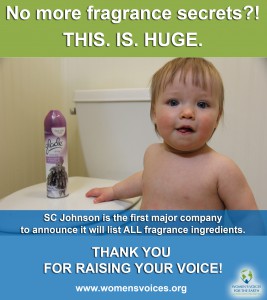 SC Johnson, makers of Glade, Windex, and Pledge, just announced that it will become the first mainstream consumer product company to list all fragrance ingredients.
We're not just talking about fragrance allergens here. We're talking about ALL fragrance ingredients. Learn more.
This. Is. Huge. And we have you to thank for it.
Tens of thousands of people have contacted the company since we began our campaign. Because their raised their voices, they listened. This move to stop keeping fragrance ingredients secret will make waves throughout the cleaning product industry, the personal care product industry, and beyond.
Campaign History
In 2013, WVE teamed up with our friends at SumOfUs.org to deliver 52,000 signatures to SC Johnson asking them to list fragrance ingredients in products.
We also spoofed that SC Johnson commercial that was on 24/7 about how they're committed to "honesty." (Except they weren't telling us which fragrance chemicals are in products…) Check it out: