Tips & Resources
Thanks to True Goods' Health & Impact Profile (HIP) for these resources:
Furniture: Finding safe furniture can be tough! Consider natural options, like wicker and wood, that also don't contain flame retardants. Some finishes and manufactured wood alternatives off-gas VOCs so stay away from particleboard, fiberboard, and certain types of plywood, which also contain higher levels of formaldehyde, a known carcinogen.
Scenting: Research has shown some scented candles produce smoke laced with almost as many toxins as those produced by cigarettes! To avoid dangerous fumes and soot, use soy or beeswax candles with pure essential oils and non-cored fabric wicks (and keep them trimmed short).
Look up the safety of other household goods at www.goodguide.com
Featured Expert: Sarah Valiant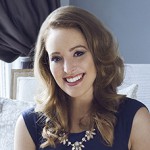 Sarah Valiant is the principal designer of Valiant Design Co, an interior design company in Toronto with a passion for creating beauty through toxic-free and functional design. After graduating from the KLC London School of Design in the UK, Sarah worked for design firms in London and Paris before returning home to start her dream company.
Sarah's Picks
| | |
| --- | --- |
| | Patterned paint rollers by The Painted House. These beautiful patterned rollers create the look of wallpaper at a fraction of the price, in the exact color you want, and, if you go with a toxic-free paint, they are completely toxic free. If you tire of the pattern, all you have to do is paint over it; no messy wallpaper removal required! |
Recommendations for Toxic-free Paints:
Organic bedding by Coyuchi. You will spend over a third of your life in bed, so it's important to think about the materials you are using to make your bed a comfortable and safe place. Coyuchi offers gorgeous organic-cotton bedding collections in beautiful subtle tones, which make it easy to blend them in with whatever color scheme you have in your bedroom.
Organic table linens by Coyuchi. If you are focussed on organic eating, why not pay a little attention to what you're eating on? Coyuchi has fabulous table linens in a breadth of styles, colours and with wonderfully rich textures.
Pattern Wall Tiles by Blik. Commitment free wallpaper is here! For those of you who change your mind or want a quick and painless way to add some bold pattern – Blik wall tiles are for you. They are self-adhesive, fully customizable and come in so many incredible patterns. Best of all they are PVC and phthalate free!
| | |
| --- | --- |
| | Organic Cushions by Valiant Design Co. The majority of furniture and cushions we purchase is filled with polyurethane foam which is extremely toxic to our health.   Try these decorative cushions from Valiant Design Co. Every piece of each design is completely chemical free right down to the organic cotton labels! |
Advertising Partners
WVE is honored to have the support of the following companies this year that helped bring this guide to life and keep it a free resource for everyone, through their generous advertising support.
Featured Partners
Partners