Tips & Resources
Avoid inexpensive metal jewelry, often contaminated with lead or cadmium. Check out Healthy Stuff and the California DTSC for examples of problem jewelry to stay away from.
Look around local farmers' markets and shops for handmade toys.
WVE Expert: Alicia Voorhies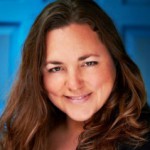 Alicia, founder of The Soft Landing, is a Registered Nurse and unapologetic medical research geek. She works with her mom and sisters to educate parents about the dangers of toxic chemicals in everyday products and their effect on growing children.  The Soft Landing team specializes in childproofing and healthy home consultation for families who are interested in protecting their loved ones ones from physical harm and from toxic chemical exposure.
Alicia's Picks
Younger Kids' Toys
Older Kids' Toys

| | |
| --- | --- |
| | HAPE Bamboo Collection Rapido Game: Ever heard of bamboo "marbles"? Oh yes, Hape made it happen with this memory building game for kids. |
| | Green Toys 16 Piece Salad Set: Green Toys allow your kiddo to have the pleasure of cooking for you while helping reduce plastic waste too! |
| | 3-in-a-row Friend Game: Made from rubber wood, this game is made using non-toxic paints, dyes and lacquers and formaldehyde free glue. |
| | Arterro Wool Felt Bugs Kit: Your creative kids can replicate the amazing bugs in nature with art supplies that help protect them like 100% natural wool felt shapes, glass and wooden beads. |
|   | Haba Animal Upon Animal Game: The unique balancing game's pieces are made of wood that is taken only from PEFC-certified sustainable forests in Germany |
| | Sprig Toys Blocks Ol Mac's Barnyard Playset: Sprig rocks the barnyard with their battery-free, eco-friendly, paint-free, kid-powered toys that are made from recycled materials. |
| | Max's Mud Organic Sculpting Dough: What a find! Max's Mud provides a truly worry-free sculpting dough that is made with certified organic, gluten-free rice flour. |
| | P'kolino Finger Paints: Fingerpaints are a surprising source of toxic chemicals, so keep your child safe with these non-toxic, water-based, washable paints. |
Advertising Partners
WVE is honored to have the support of the following companies this year that helped bring this guide to life and keep it a free resource for everyone, through their generous advertising support.
Title Partner

Featured Partners