Tips & Resources
Look for fitness apparel from companies that offer certified organic cotton or Merino wool fabrics—or those that have been certified by bluesign

®

, which tests products for their safety for consumers and the planet.
Avoid fitness gear (such as hand weights, yoga mats, etc.) made with materials such as petroleum-based plastics, PVC, or phthalates, which have been linked to concerning health effects.
A recent German study revealed that store-bought bottled water has a whopping 25,000 chemicals inside, including hormone disruptors strong enough to mimic a prostate cancer treatment drug. Tap water tested did not have these hormone disruptors present. Opt for BPA-free, reusable, stainless steel water bottles for your workout instead.
WVE Expert: Erinn Morgan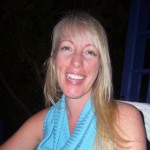 Erinn is a women's fitness gear and apparel expert. She is the founder/editor of WomensMovement.com, an online magazine for women who are passionate about fitness and healthy living, and the author of Picture Yourself Going Green: Step-by-Step Instruction for Living a Budget-Conscious, Earth-Friendly Lifestyle.
Erinn's Picks
Advertising Partners
WVE is honored to have the support of the following companies this year that helped bring this guide to life and keep it a free resource for everyone, through their generous advertising support.
Title Partner

Featured Partners