Tips & Resources
Check out the ThinkDirty app for shopping for personal care products: Just scan the product barcode and Think Dirty will give you easy-to-understand info on the product, its ingredients, and cleaner options.
WVE Expert: Sherrell Dorsey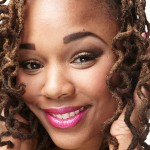 Sherrell is an eco-glamour expert, speaker, social entrepreneur, author of Eco-Glamorous: A Fail-Proof Guide to Ditching Toxic Beauty Products, Protecting Your Health & Greening Your Beauty Routine and creator of the popular eco-beauty blog OrganicBeautyVixen.com. Sherrell strives to help others navigate sustainable living at the intersection of environmental responsibility and economic development. She has also been a contributing writer on green technology, eco-friendly living and environmental justice for publications like Black Enterprise, Organic Spa Magazine and Inhabitat.com.
Sherrell's Picks
HollyBeth Organics' Grits & Honey Scrub  – Honey is a natural humectant that naturally draws water into the skin and turns rough, dry skin into a supple and soft canvass pre-moisturizer. This scrub is made with tupelo honey, Vitamin E and sweet almond oil which smells great and keeps skin quenched.
Exuberance Beauty Green-Tea Facial Cleanser – Perfect for all skin types, this cleanser is fragrance-free and offers deep cleaning action that removes debris without over-drying the skin. Witch hazel and lavender bring balance to the skin and leave the skin looking radiant.
100% Pure Pomegranate Antioxidant Hydration SPF20 – Sunscreen isn't just for summer loving. Sun protection year-round is always in style. This chemical-free hydrating sun protector is lightweight and super moisturizing for both face and neck.
Shea Radiance Hair Nourishing Cream – Healthy hair starts with healthy ingredients. This nourishing hair cream is suitable for daily use, offers lightweight moisturizing for textured hair and is free of parabensand preservatives. With a shea butter base, avocado and coconut oils, the cream offers intense hydrating without leaving hair feeling greasy.
Suki Velvet Moisturizing Cream – Talk about luxury in a bottle, this all-over body moisturizer offers great hydration without heavy fragrances. Chamomile keeps skin soft and green tea delivers anti-oxidants for skin health that's unmatched.
Sheswai – Polish doesn't have to be toxic or boring. Sheswai nail lacquers are free from formaldehyde, DBP and toulene and come in fantastic colors that never sacrifice on fashionable play.
Gabriel Cosmetics Zuzu Lux Gluten-Free Lipstick – Lead-free lipstick is always in style whether it's a haute read or precious pink. Gabriel lipsticks are packed full with oils like sesame, jojoba and safflower to keep lips both moisturized and preservative free.
Archipelago Soy Wax Candles – Set the mood with soy candles that burn cleaner than traditional ones and aren't laden with heavy chemical fragrances or scents. Archipelago soy candles offer both high-end luxury and a toxic-free ambiance.
Weleda Body Wash – Soaps tend to contain heavy fragrances and detergents. Weleda's body washes are made without sulfates and feature an array of essential oils for a therapeutic shower-time experience.
Carol's Daughter Body Jelly – Ditch the vaseline and petroleum jelly in favor of a moisturizing oil that isn't harsh on the environment or your skin. This body jelly is comprised of beeswax, sweet almond oil and more to wipe away dry skin and seal in moisture.
Advertising Partners
WVE is honored to have the support of the following companies this year that helped bring this guide to life and keep it a free resource for everyone, through their generous advertising support.
Title Partner

Featured Partners