Resources from WVE
Opt for clothing materials produced without pesticides such as organic cotton, wool or hemp. Search Good Guide for safer brands.
Buy vintage clothes or gently used fashions from thrift shops and consignment stores—you'll be reducing pollution from producing new clothes down the line.
Check out the Detox Catwalk from Greenpeace to see which companies are working to phase toxic chemicals out of their global supply chains.
Expert: Shona Quinn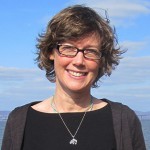 Shona is the Sustainability Leader at EILEEN FISHER, where her work focuses on guiding the company's environmental strategy. Shona researches the ecological aspects of clothing, which includes exploring material selection, life-cycle thinking and women's conflicting role as the planet's primary caregiver and consumer.
Shona's Eco Tips
Rethink: Think deeply and critically about the role clothing plays in your life.  What image are you buying to reflect out to the world?  Do you feel that your clothing express your true personal identity? Do they make you feel good emotionally and ethically?
Research: Ask your favorite clothing company what role they are playing to support eco-friendly products and services.  In addition, take a moment to review how some companies share their environmental work. Nike, Timberland, Patagonia and EILEEN FISHER are all examples of companies offering helpful environmental information to consumers through their websites. Finally, check out two non-profits: Made-By, which offers an environmental benchmarking tool for fibers, and Textile Exchange, that has a guide called Making Informed Choices.
Reflect: The holidays are supposed to be about celebration. Yet consumer marketing has changed the holiday focus from celebration to shopping. It's also helpful to remember that gift giving is as much about the giver's satisfaction as it is the receiver's. Take a moment to reflect on what you like about the holidays and how you might give that experience to a neighbor, friend or a family member.
Throw a Green Party
This time of year is really about connection. Instead of giving gifts, try gathering women to celebrate our power to support positive change:
Gift of Insight Party:  Gather friends and fashion magazines, then start by cutting images out of magazines and making collages. Ask each other what stories you have been told about yourself by media. Then create another collage that reflects what stories you want to tell about yourself. Ask what steps might you help each other take to make that happen?
New-to-You Swap Party: Invite your friends to bring their nicest unwanted items to donate and then they can "shop" for free! If it's a small group, consider inviting friends who wear similar sizes or focus on accessories. Pick a theme–like Dresses & Drinks, Purse Party or Tee Time.
Upcycling Party: Create a new item from a recycled garment—for example, unravel an old sweater to make a new scarf or turn a women's skirt into a toddler's dress.
Green Gift Ideas
Instead of giving your friends and loved ones more clothes, consider giving them a way to take care of the ones they already own:
Mending or Tailoring Gift Card: Offer the services of a local tailor, so those pants hanging in your girlfriend's closet will be ready to wear for the next special occasion.
Closet Cleaning Gift Card:  Enlist the services of a local personal clothing consultant and help your friend declutter and rethink her wardrobe needs.
Mending Kit: Update a friend's sewing basket. Items you might include: a depiller, a snag needle and darning yarn & needle.
Wash Green Basket: Refresh a friend's laundry care products. A garment steamer (to extend a garment's life), lavender linen spray (could be homemade), 7th Generation natural 4X Concentrated Liquid Laundry Detergent Geranium Blossoms & Vanilla, Ecover Delicate Wash, Ecover Stain Remover, and some wooden clothes pins.
Helpful Shopping Hints
Play favorites:  Did you know we wear 20% of our clothing 80% of the time? That's why it's good to play favorites and buy only what you love. If you don't see yourself wearing it in three years, put it back.
Explore the new look of vintage retailers: Recruit a friend and hit the newest vintage and thrift stores. For NYC bound folks, personal clothing consultant, Maria Turkel suggests these Soho stops: HousingWorks, Amarcord and What Goes Around Comes Around. If you don't happen to have an upscale secondhand shop nearby, you're in luck: they're setting up shop online.
Take a vacation from fashion: Slow down when making purchasing decisions.  Perhaps even stop for a few months and reflect on your clothing needs and wants.
Advertising Partners
WVE is honored to have the support of the following companies this year that helped bring this guide to life and keep it a free resource for everyone, through their generous advertising support.
Title Partner

Featured Partners